| | |
| --- | --- |
| | Votre panier est actuellement vide. |
7-KETO CREME DE 60 GR POUR RAJEUNISSEMENT
Acheter La Crème 7-Keto est une crème aux propriétés antirides.Elle est composée des agents ntivieillissement les efficaces.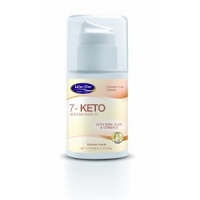 Agrandir l'image
Fournisseur : Life Flo
Description
Vous recherchez une crème antiride qui combine des agents anti-âge efficaces aujourd'hui?
La crème 7-Keto est alors votre nouveau soin de beauté! 
La crème 7-Keto est la formule de crème antirides très évoluée. Elle est composée principalement de 7-Keto mais aussi de MSM, d'Aloès et de Vitamine E.
Agit sur les rides et les ridules,

Agit sur les tâches brunes,

Une peau visiblement plus lisse et plus ferme

Des articulations lubrifiées donc moins douloureuses,
La crème 7-Keto
7-Keto : une alternative dans le traitement de certains aspects du vieillissement. La 7-Keto semble être efficace également face à la prise de poids associée à l'âge, notamment à la ménopause.
MSM : Le MSM a de multiples facultés. Il est un soin hydratant et adoucissant excellent mais aussi un antioxydant et un antirides très efficace. Il comble les rides en profondeurs et rend votre peau plus ferme et plus jeune.
Aloès : Le gel extrait des feuilles d'Aloe vera soulage les douleurs cutanées et accélère la guérison lorsqu'il est appliqué sur les plaies ou les brûlures.
Vitamine E : La vitamine E joue principalement son rôle d'antioxydant dans les membranes biologiques. Elle a également une action préventive des maladies cardio-vasculaires.

 

 

Posologie

Utiliser la crème 7-Keto tous les jours pendant une durée maximum de 25 jours. Vous pourrez après minimum 5 jours de pause réutilisé la crème 7-Keto.

Purified Water, Glycerin, Aloe Barbadensis, Butyrospermum Parkii (Shea Butter), Isopropyl Palmitate, Caprylic/Capric Triglyceride, Stearic Acid, 7-Keto DHEA Acetate, Glyceryl Stearate, Phenoxyethanol and Caprylyl Glycol, Methylsulfonylmethane (MSM), Allantoin, Potassium Sorbate, Cimicifuga Racemosa (Black Cohosh), Vitis Vinifera (Grape) Seed Extract, Eleutherococcus Senticosus Root Extract, Arctium Lappa Root Extract, Chamomilla Recutita (Matricaria) Extract, Tocopherol (Vitamin E), Lecithin, and Sodium Bicarbonate.
---