| | |
| --- | --- |
| | Votre panier est actuellement vide. |
ANIMAL RAGE XL 30 SACHETS NEW VERSION
Acheter Commander Animal rage au prix de 44.90 . Adrénaline, puissance pure, une énergie qui vous prend des pieds à la tête... Animal Rage vous donne la force de dominer les charges en salle, de dépasser vos limites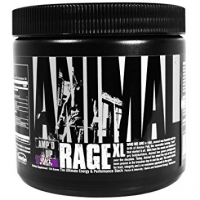 Agrandir l'image
Fournisseur : Universal Nutrition
Description
Le nouveau booster d'Universal au service de la force brute et des performances !
Animal Rage. Vous êtes un bodybuilder et chaque entraînement est poussé jusqu'à la dernière limite. Vous ne voulez plus perdre votre temps avec des moitiés d'entraînements. Pour vous vous rapprocher de vos objectifs, vous devez utiliser les meilleurs suppléments aux meilleurs moments. Votre alimentation et votre préparation sont essentiels avant chaque entraînement. Avec le bodybuilding, chaque répétition importe. Pour des entraînements plus intenses, les bodybuilders savent qu'il faut pousser plus lourd à chaque entraînement en libérant votre rage intérieure.
Animal Rage est composée de quatre puissants complexes. Avec les suppléments de la gamme Animal d'Universal, chaque dose est complétée avec une précision mesurée pour produire une énergie, une concentration et des performances uniques à partir des meilleurs nutriments. Chaque dose d'Animal Rage vous permet d'exploser vos performances.
Une force concentrée que rien n'arrête !
Cette rage animale sera totalement contrôlée et gérée. Elle se manifestera par une prise de force et de puissance musculaire. De l'intérieur, Animal Rage vous poussera à la dernière limite, pour tester vos forces et votre concentration sous la barre. Une rage d'animal vous donnera le nouveau physique que vous attendez, toujours plus fort et plus massif... Canalisez votre énergie en dépassant vos limites avec rage. Votre alimentation et vos suppléments seront méticuleusement choisis. Animal Rage est votre arme secrète, un stimulant exceptionnel conçu pour vous pousser jusqu'à vos dernières limites et plus loin encore.
L'extrême limite des boosters d'entraînement par Universal !
Avec l'esprit Hardcore, Animal Rage est né. Testé en salles par des bodybuilders du monde entier, Universal Nutrition a produit un nouveau supplément d'exception avec Animal Rage. Après plusieurs exercices d'échauffement en accéléré, Animal Rage a prouvé qu'il pouvait délivrer une force supérieure à la plupart des autres formules du marché ! Animal Rage produira plus de puissance, d'intensité, de rage, et de force.
Animal Rage est un outil Hardcore destiné aux meilleurs culturistes, haltérophiles et athlètes de la fonte. Animal Rage est aujourd'hui réputé comme le plus puissant stimulant de pré-entraînement jamais élaboré.
Serving Size 1 Level Scoop (~4.82g)
Servings Per Container30
Amount Per Serving % DV
Niacin 15 mg 75%
Vitamin B12 (as methylcobalamin) 5 mcg 83%
Calcium (as chelate) 5 mg 0%
Magnesium (as chelate) 2.5 mg 0%
Chloride (as sodium chloride) 15 mg 0%
Sodium (as sodium chloride) 10 mg 0%
Potassium 14 mg 0%
Animal Rage Proprietary Formula 3635 mg
Endurance & Perfomance Complex **
Creapure® Creatine Monohydrate **
CarnoSyn® Beta-Alanine **
Citrulline Malate **
L-Taurine **
Glucuronolactone **
Focus & Intensity Complex
L-Tyrosine **
Choline Bitartrate **
N-Acetyl Tyrosine **
β-Phenylethylamine **
Sustained Energy Complex
Rhodiola Rosea (root) **
Schizandra Berry **
Cordyceps Sinensis (whole plant) **
Panax Ginseng **
GlycoCarn® **
Quick Energy Complex
Caffeine Anhydrous **
Coffee Bean Extract (polyphenols) **
Green Tea Extract (polyphenols/EGCG) **
Bacopa Monnieri (leaf) **
* Percent Daily Values are based on a 2,000 calorie diet.
** Daily Value (DV) not established.
Other Ingredients:
Natural And Artificial Flavors, Citric Acid, Malic Acid, Acesulfame Potassium, Sucralose, Potassium Chelate, Fd&C Blue #1
Made in a GMP facility on equipment that processes milk, soy, egg, peanuts, tree nuts, fish, shellfish, and wheat.
Autres ingrédients: Arômes naturels et artificiels, acide citrique, acésulfame potassium, inuline, sucralose, colorant rouge #40.
Fabriqué dans des installations qui manipulent le lait, le soja, les oeufs et les cacahouètes.
Conseils d'utilisation : mélanger une dose d'Animal Rage avec 120 ml de votre boisson favorite 20 à 30 minutes avant l'entraînement. Ne pas consommer plus d'une dose d'Animal Rage par période 24 heures et 6/8 heures avant le coucher.
---