| | |
| --- | --- |
| | Votre panier est actuellement vide. |
TRIFECTA KIT 3 PRODUITS
Acheter Trifecta Stack ,LE PACK le pluis puissant de la gamme LG avec les fameux 1-Methyl 1-D XL 1- Methyl Masterdrol MMV3 90 Ct 1- Natadrol 60 Ct un incroyable coktail explosif !! RESULTATS GARANTIS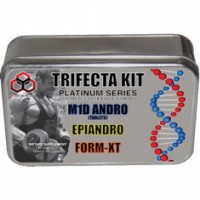 Agrandir l'image
Fournisseur : LG Sciences
Description
Le fameux TRIFECTA Comprend les produits Pro-hormones pour plus de resultats , des resultats au niveau de votre entrainement !
M1D Andro, 90 caps (90 servings) - a combination of the most popular wet prohormone of all times and a powerful steroidal anti-estrogen.
Epi Andro, 6oz (90 servings) - a prohormone to stanolone that may increase aggression and give you insane hardness in the gym.
Form-XT, liquid (90 servings)
TriFecta Stack: LG Sciences TriFecta Stack est la populaire combinaison des fameuses prohormones dans 1 kit specifique developpe pour les utilisateurs qui veulent des prises de muscles et de masses extraordinaires  
Description du produit:

Le LG Sciences Trifecta Stack est un approvisionnement de six semaines qui donnera au débutant ou au culturiste le plus avancé un boost pour construire le muscle. Vous n'allez pas seulement remplir vos cellules musculaires existantes mais créez en fait de nouvelles cellules musculaires!
6 semaines comprend: 4 Semaine Fourniture de M1D Andro et  MMV3 (90 caps) 2 Semaine du PCT avec natadrol Extreme BONUS: Régime alimentaire et exercice Guide Methyl 1-D Points forts du produit: • les gains extrêmes de force et la taille • flambée testostérone niveaux • Augmentation de la masse musculaire • Augmentation de la perte de graisse • Les œstrogènes moteur • Bloquer DHT • métabolisme et la thermogenèse intensifié • Grand conversion du glucose en énergie plutôt que la graisse.

Trifecta Stack by LG Sciences - 6 semaines de Cycle, ce kit contient   : 4 semaine de cures et 2 semaines de cure de formadrol extreme  , accompagne d'un guide en anglais de lentrainement et de la nutrition  Progres rapides avec une motivation et un sex drive en plus des resultats acquis en masse et en " seche " .
LG Sciences Trifecta Stack est le pack ideal pour les males en dessus de 21 ans pour une experience hors du commun et tout cela sans utilisation de sunstances interdites sur le marche . 
M1D ANDROCAPS
Serving Size = 1 Caplet:
Proprietary Blend - 100mg
3b-hydroxy-androst-5-ene-17-one
Androsta-3,5-diene-7,17-dione
Metabolism Complex - 700mg
Chicory (Root Extract)
L-Carnitine L-Tartrate
Cissus Quad. (Whole Plant Extract)
Stinging Nettle (Root Extract)
Phellodenron a. (Bark Extract)
Piperine
Luteolin
Other Ingredients: Magnesium stearate, silica, methyl cellulose, dicalcium phosphate, croscarmellose.
EPIANDRO
Serving Size = 2 mL:
Proprietary Blend - 25mg
3b-Hydroxy-androstane-3b-ol, 17-one, Beta-ecdysterone
Other Ingredients: Water, Glycerin, Citric Acid, CA EDTA, Na Sorbate, Sucralose, K/NA Benzoate, Natural & Artificial Flavor, Sucralose, Ace K, Stevia, Xanthin Gum.
FORMXT 
Serving Size = 2ml:
Proprietary Blend: 35mg
Androsta-3,5-diene-7,17-dione
Metabolism Complex - 575mg
Calcium Lactate .40%
Ginger Root 10:1
Quercetin
Phellodenron a. (Bark Extract)
Piperine
Other Ingredients: Magnesium Stearate, Silica, Methyl Cellulose, Dicalcium Phosphate, Crosscarmellose 
---