| | |
| --- | --- |
| | Votre panier est actuellement vide. |
Erreur: Failed to retrieve the Currency Converter XML document.

PHENIBUT 250 90 CAPS
La capacité du phénibut à soulager l'anxiété a été démontrée dans de nombreux modèles animaux.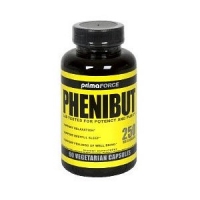 Agrandir l'image
Fournisseur : Prima Force
Description
Le phénibut (acide phényl-gamma-aminobutyrique) est un dérivé du GABA (acide gamma-aminobutyrique). Grâce à la présence d'un anneau méthyle, il traverse facilement la barrière hémato-encéphalique. Le phénibut a été découvert et introduit en pratique clinique en Russie dans les années 1960. Depuis cette époque, il y est utilisé pour soulager l'anxiété et l'angoisse, et améliorer le sommeil de patients névrosés. Il possède des propriétés nootropiques (stimulant la cognition) et anxiolytiques, et est souvent comparé au diazépame, au baclofène et au piracétame.
¤ La capacité du phénibut à soulager l'anxiété a été démontrée dans de nombreux modèles en laborartoire . Son mécanisme d'action est similaire à celui de nombreux médicaments connus pour réduire l'anxiété chez l'homme. Des études animales ont ainsi comparé son profil à celui du diazépame et du piracétame. Elles ont montré que le phénibut a un effet tranquillisant similaire, bien que plus faible, à celui du diazépame. Il a également un effet calmant et relâche les muscles. Son action, là encore, est moins puissante que celle du diazépame.
¤ En Russie, le phénibut est utilisé couramment pour traiter de nombreuses névroses incluant des troubles post-traumatiques, le bégaiement ou l'insomnie. Ainsi, l'administration de 0,25 à 0,5 g trois fois par jour a amélioré les fonctions intellectuelles et la force physique tout en diminuant la fatigue et l'asthénie de patients névrosés et psychotiques. Son efficacité dans le traitement des troubles psychologiques et psychiatriques a été comparée à celle du diazépame.
¤ Des recherches sur l'animal et chez l'homme soutiennent que le phénibut a une activité nootropique similaire à celle du piracétame sans être aussi puissant.
¤ Tout comme les nootropiques, le phénibut a un effet neuroprotecteur. Chez des patients traités pour une maladie de Parkinson, il protège les neurones dopaminergiques et améliore leur état.
¤ Le phénibut semble également avoir des propriétés susceptibles d'aider à lutter contre la dépendance tabagique ou alcoolique. Il a aidé des fumeurs en période de sevrage à lutter avec succès contre l'envie de refumer, son effet relaxant évitant l'anxiété qui se manifeste fréquemment dans de telles situations. Le phénibut est parfaitement adapté en cas de courtes périodes de stress ou d'anxiété mais est peu adapté à un usage continu. L'organisme développe en effet une accoutumance à de nombreux effets du phénibut (probablement pas à son action nootropique). Les premiers signes d'accoutumance apparaissent dès le 5e jour d'administration. Pour cette raison, il est généralement utilisé sur des périodes d'une à deux semaines.
Informations nutritionnelles
Chaque gélule végétale contient 500 mg d'acide bêta-phényl-gamma-aminobutyrique, un dérivé du neurotransmetteur GABA, utilisé en Russie depuis les années 1960 notamment pour son action bénéfique sur l'anxiété.
---