| | |
| --- | --- |
| | Votre panier est actuellement vide. |
HEMAUDROLIX - Axis Labs 180 caps
HemodrauliX™ HemodrauliX™ Système d'Hyper-Vasodilation anabolisante HemodrauliX™ se présente comme le premier produit au monde de régulation de l'enzyme Nitric Oxide Synthase (NOS) qui produit l'oxyde nitrique...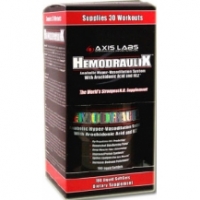 Agrandir l'image
Fournisseur : Axis Labs
Description

HemodrauliX™
HemodrauliX™ Système d'Hyper-Vasodilation anabolisante
HemodrauliX™ se présente comme le premier produit au monde de régulation de l'enzyme Nitric Oxide Synthase (NOS) qui produit l'oxyde nitrique. En régulant le NOS et en le combinant avec l'arginine la plus puissante de la planète, NE2® (Ethyl Ester Di-HCl d'Arginine), cela fait d'HemodrauliX™ un produit qui se place très loin au dessus des autres produits de sa catégorie. Préparez-vous mentalement à des congestion encore plus importantes, plus de force et une stimulation musculaire encore plus profonde. En plus, HemodrauliX™ combine la puissance de la Beta-Alanine pour stimuler la production de Carnosine, laquelle réduit la fatigue musculaire à l'entraînement. HemodrauliX™ est tellement agréable à boire que vous ne voudrez plus jamais vous entraîner sans lui. Propulsez dès maintenant votre entraînement vers les sommets les plus élevés en commençant dès cet instant à vous supplémenter avec HemodrauliX™.
Contenance prévue pour 30 entraînements

Augmente la production de N.O

Congestion musculaire à s'en brûler la peau

Gains en force stupéfiants

Stimulation des fibres musculaires profonde

Amélioration de la synthèse des protéines

Mise en action de la Lipolyse (brûlure des graisses et préservation du Muscle)

Amélioration des performances sexuelles
La Suprématie de sa catégorie
Etablissons rapidement ce qu'HemodrauliX™ n'est pas. HemodrauliX™ n'est pas le tout dernier supplément de NO à vous déchirer les muscles. Simplement dit, HemodrauliX™ vous procure encore beaucoup plus que n'importe quel autre supplément de NO à ce jour. Il va changer ce à quoi l'on peut s'attendre du marché des produits d'oxyde nitrique parce qu'il domine sa catégorie au point qu'il en représente la suprématie. Ce que nous avons relâché sur les étalages de vos boutiques représente la plus grande avancée de la supplémentation en oxyde nitrique depuis son introduction dans le monde du fitness il y a de cela cinq ans. Il s'agit bien plus que d'un rapport entre le NO et l'Arginine et nous vous en faisons profiter sous sa meilleure forme avec HemodrauliX™.
Que veut dire exactement système d'Hyper-Vasodilation anabolique ?
Vous savez peut-être déjà que l'Arginine est un précurseur de l'oxyde nitrique. Ce que vous ne savez peut-être pas c'est que d'autres facteurs sont impliqués pour que le processus puisse aboutir. Dans le passé, les suppléments de NO étaient conçus pour saturer votre corps avec de grandes quantités d'Arginine, en faisant actuellement du bon travail avec NE2® en estérifiant l' Arginine (Arginine Ethyl Ester Di-HCl). Pourtant, jusqu'à maintenant, il n'y avait pas assez de co-facteurs dans votre corps pour répondre à cette énorme quantité d' Arginine et la convertir, ce qui empêchait l'expérience ultime de l'oxyde nitrique.
L'oxyde nitrique est un sous produit de l'arginine décomposé à l'intérieur du corps par une enzyme appelée Nitrique Oxyde Synthase (NOS). Cependant, votre corps n'a qu'une réserve limitée de NOS. En conséquence, quelle que soit la quantité d'Arginine que vous avez fourni à votre organisme, votre oxyde nitrique ne pourra dépasser le seuil permis par la quantité de NOS que vous possédez pour fabriquer le NO. Nous avons fait dès maintenant une avancée sérieuse pour créer l'enzyme clé, NOS. Le résultat… DES CONGESTIONS ENORMES ! Nous parlons bien de congestion tellement fortes qu'elles font mals. Intéressant non ?
Mais comment diable avez-vous fait cela ? Pourriez-vous nous demander. La réponse réside dans l'addition d'un élément appelé acide arachidonique (AA). Vous avez peut-être déjà entrevu ce composant dans d'autres produits parce qu'il possède de nombreuses vertus mais vous ne l'avez jamais vu dans cette configuration auparavant. AA possède la capacité d'engendrer (et de réguler) le NOS à travers un processus complexe. Une fois que l'acide arachidonique est relâché de la gaine en phospholipides de chaque cellule musculaire durant l'exercice, il est rapidement converti en prostaglandines (PGE2). Les PGE2 potentialisent les enzymes NOS en créant l'environnement parfait pour la production de l'oxyde nitrique.
HemodrauliX™ est tellement puissant que nous vous suggérons de ne le prendre qu'une fois par jour et pas plus de quatre à cinq fois par semaine. Les effets intenses peuvent se faire sentir des jours après l'utilisation. Plus besoin d'avaler d'énormes pilules deux fois par jour, tous les jours, toute la semaine. Cette méthode est dépassée, surmédiatisée et elle est devenue inutile. En préservant les cofacteurs de NO, HemodrauliX™ travaillera dur pour vous et vous pourrez faire plus de muscle pour une dépense moindre.
Lorsque nous parlons de faire plus de muscle, nous n'exagérons pas. HemodrauliX™ véhicule un composant très anabolisant, très notable au bout de la première semaine d'utilisation. Au cour de la phase de test d'HemodrauliX™, il était assez courant de voir des gains de 2,5 à 6 kilos de masse musculaire dense durant le premier mois d'utilisation. Sans mentionner la fonte tout à fait respectable de graisses corporelle. La lipolyse (décomposition des graisses) est très appréciable, particulièrement durant un entraînement à cause de l'augmentation de la quantité de sueur(vous allez suer à torrent!).
HemodrauliX représente une véritable découverte que vous n'auriez jamais pu espérer d'un produit de NO. Prenez une dose dès aujourd'hui pour vous mettre sur la route d'un physique beaucoup plus massif et dense. Demandez plus à vos suppléments. Demandez Axis Labs®.
Description des composants
Acide arachidonique
HemodrauliX™ est le tout premier produit à base d'oxyde nitrique à exploiter la puissance cachée de l'acide arachidonique. La puissante synergie entre l'acide arachidonique et le NO sont liés pour provoquer une cascade anabolisante qui vous mènera à une congestion et une endurance dont vous n'avez jamais fait l'expérience auparavant dans le monde du bodybuilding et de la force athlétique. L'acide arachidonique se présente comme un précurseur des molécules signals de prostaglandines (PGE2). En plus d'être extrêmement anabolisants, les PGE2 travaillent avec l'oxyde nitrique pour créer une vasodilatation massive en nourrissant vos muscles par une augmentation du flux sanguin, de la fourniture d'oxygène et de l'assimilation du glucose. Vous déjà certainement entendu parler des marques qui vous promettent des congestions à vous en déchirer la peau bien avant. Maintenant, il est temps d'en faire véritablement l'expérience.
NE2®
NE2® (Arginine Ethyl Ester Di-HCl) est composé d'une molécule d'arginine estérifiée, la rendant moins polarisable, plus résistante à la décomposition chimique et plus facilement absorbable par le système digestif. L'éthyl ester protège aussi la molécule d'arginine d'une dégradation rapide en la rendant beaucoup plus efficace par petites doses que les produits à base d'oxyde nitrique. Qu'est-ce que cela veut réellement dire ? tout simplement qu'il y aura plus d'arginine dans votre corps pour créer de l'oxyde nitrique.
Beta-Alanine
En outre, HemodrauliX™ est potentialisé par la très populaire Beta-Alanine. Une fois dans votre corps, la Beta-Alanine se combine avec l'Histidine pour créer de plus haut niveau de carnosine. La carnosine absorbe les ions d'hydrogène créés durant l'exercice, lesquels sont directement associés à la fatigue musculaire, le manque de force et l'épuisement physique. Cela veut dire que lorsque vous prenez HemodrauliX™, vous êtes capable de vous entraîner plus longtemps avec plus de force et moins de fatigue tout en récupérant plus vite. Si vous ressentez une légère gêne au niveau de votre peau ou des lobes de vos oreilles, ne paniquez pas! C'est juste la Beta-Alanine au travail.
Valeur nutritionnelle

Quantité par service

6 capsules liquides

Services par boîte

30

 

Quantité par dose

%VJ*

Huile de graines de sésame

4,170 mg

†

HemodrauliX Press (mélange propriétaire)

3,000 mg

†

NE2® (Arginine Ethyl Ester Di-HCl), Beta-Alanine,Di-Arginine Malate. Arginine Alpha-Ketoglutarat
Acide arachidonique (40% dans un mélange propriétaire d'acides gras et d'huile)

* Les pourcentages de valeur journalière (VJ) sont basées sur un régime de 2000 calories

† Valeur journalière (VJ) non établie
Autres ingrédients : gélatine kasher, Glycérine, pollen, eau purifiée, Lécithine et dioxide de titane.
Conseils d'utilisation : En tant que complément alimentaire, prendre 6 capsules 30 minutes avant l'exercice. Pour de meilleurs résultats, ne pas prendre plus d'une fois par jour ou plus de 5 fois par semaine. Prenez un multivitamine tous les jours en utilisant HemodrauliX™.
Directions : As a dietary supplement, take 6 capsules 30 minutes prior to exercise. For best results, do not take more than once a day or more tha 5 times a week. Supplement daily with a multivitamin while using HemodrauliX™.
Ne pas donner aux enfants de moins de 18 ans, aux femmes enceintes ou allaitant, aux personnes sous traitement médical.
Mettre hors de la portée des enfants.
Complément alimentaire. Ne constitue pas un substitut d'un régime alimentaire varié.
Respecter les dosages recommandés.
acheter Hemodraulix , achat , vemte commander hemodraulix 
---