| | |
| --- | --- |
| | Votre panier est actuellement vide. |
ASSAULT 32 SERVING MANGUE
Un combine hors normes contenant de la creatine , BCAA. et bien d'autres pour un entrainement sans epuisement ...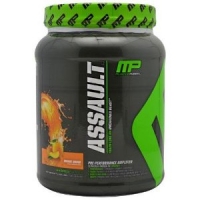 Agrandir l'image
Fournisseur : Muscle Pharm
Description
NOUVELLE FORMULE

Descriptif du Produit :
Matrice 2 en 1 pré/intra-entraînement

Intensité d'entraînement et concentration augmentées

Tampon contre l'acide lactique

Congestions agressives

Énergie & endurance au top
Les points clés d'ASSAULT™ (traducion en cours) :


• Con-Crete: Personne d'autre ne offre cette version brevetée de créatine dans un produit pré-entraînement, qui est cliniquement prouvé pour être supérieur que d'autres formes.
• Astragin®: A, extrait de ginseng cliniquement étudié breveté, Astragin® abaisse le taux de glucose dans le sang, augmente la créatine et l'absorption arganine, augmente la captation du glucose et de la production d'ATP.
• Cinnulin: Comme Astragin®, Cinnulin augmente l'absorption, de sorte que les créatine, l'arginine, des vitamines et d'autres ingrédients éprouvés en lancement d'assaut directement dans vos muscles.
• (Un bonus douce est que ces deux substances cheval de bataille aussi brûler la graisse corporelle tout en ajoutant musculaire, pour le développement, un physique plus complète maigre.)
• BCAA: Contrairement à "concentrés" formules qui ont frappé dur, puis vous laissent traîner comme vous venez de vous faire agresser dans une ruelle sombre ... Assault est là du début à la fin. Le BCAA dans la formule est une instance de brevet 3: 2 qui est supérieure à la leucine et de la valine à isoleucine: 1. L'ajout de ces acides aminés favorise la récupération plus fort et augmente la masse musculaire maigre.
• NO 1,3-Diméthylamine: Oublier que rapide, vide élevé. Un accident est sûr de suivre. Les athlètes ont besoin d'une formule complète, riche en éléments nutritifs. Pas un stimulant comme la 1,3-Dim.
• Le forfait nutritive complète: 4g bêta alanine, 5g de Con-Crete & Creapure créatine, 1,5 g citrulline malate, 6g BCAA, glucides, vitamines, et bien sûr notre mélange spécial haute performance énergétique et Intensité Amplificateur - Tout cela. DANS CHAQUE SCOOP
Utilisation Suggérée :
Prenez 1 dosette d'ASSAULT™ 15-30 minutes avant l'entraînement. Utilisez ASSAULT™ tous les jours avant chaque entraînement.
Informations nutritionnelles pour 40g :
32 Servings

Fruit Punch

Serving Size23G(1/2Scoop)

Servings Per Container32

 

Amount Per Serving

% DV†

 

Calories

40

 

Total Carbohydrates

9g

3%

Sugars

0g

*

 

Vitamin B-6 (Pyridoxine HCL)

14mg

700%

Vitamin B-12 (Methylcobalamin)

85mcg

1416.67%

Calcium (From Phosphate And Silicate)

247mg

24.70%

Sodium

45mg

1.88%

Potassium

40mg

1.14%

 

Assault Proprietary Blend

23000mg

*

 

Anti-Fatigue Adaption Matrix

 

 

CarnoSyn® Beta-Alanine, Citrulline Malate, (DMG) Dimethylglycine, Rhodiola Rosea (Root) Extract 3% Rosavins

 

Strength Domination & Recovery Matrix

 

 

Creapure(Creatine Monohydrate), Con-Cret® Creatine HCL (100% Concentrated Creatine)

 

High Performance Energy & Intensity Amplifier

 

 

Choline Bitartrate, Taurine, L-Tyrosine, Medium Chain Triglycerides (MCT), Caffeine Anhydrous, Papain 1000, Pyroglutamic Acid, L-Aspartic Acid, Camiella Sinensis (White Tea Leaf Powder), Pyridoxine HCL, Methylcobalamin

 

3:1:2 BCAA Ratio (Patent Pending)

 

 

BCAAs (L-Leucine, L-Valine, L-Isoleucine)

 

Cell Volumizer

 

 

L-Glycine, L-Arginine Blend (L-Arginine AKG 2:1, Di Arginine Malate, L-Arginine HCL)

 

Cellular Transport Amplifier

 

 

Astragin® (Notoginseng Root Ext, Astragalus Root Ext.), Cinnulin PF® (Cinnamomum Burmanii Extract Standardized To Type-A Polymers)

 

Muscle Hydration & Electrolyte Blend

 

 

L-Glutamine, Phosphorus, Sodium, Potassium

 

† Percent Daily Values (%DV) are based on a 2,000 calorie diet

* Daily Value (DV) not established

Conditionnement : 800g (32 services par pot)
Attention :
Ce produit est un complément alimentaire.
Les complémentaires alimentaires ne peuvent pas être utilisés comme substitut d'un régime alimentaire varié.
Tenir hors de portée des enfants.
---