| | |
| --- | --- |
| | Votre panier est actuellement vide. |
Syntrax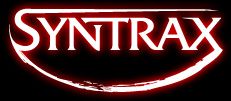 Syntrax est connu dans le monde du body building pour être à l'origine de suppléments protéinés totalement uniques avec un isolat de whey ultrapur : Nectar. Il s'agit tout simplement du meilleur goût de protéine de lactosérum que vous puissiez goûter à ce jour. Les protéines Nectar vous feront savourer un cocktail rafraichissant à base de whey au goût pomme verte, fruit punch, limonade, framboise/kiwi, Caraïbes et bien plus encore. Délicieux, riche en acides aminés, en BCAA et en Glutamine, Nectar est la première protéine du marché qui se boit comme une limonade rafraichissante.
Syntrax est connu pour ses gainers, Matrix 5.0 vous donnera d'excellents shakes riches en hydrates de carbones et en protéines digérés lentement, facile à mélanger et vraiment idéal pour se faire une boisson protéinée onctueuse. Cerebro est un complément à la pointe des nutriments pour optimiser votre potentiel intellectuel alors que Radox met à votre disposition les antioxydants les plus performants du marché, ils couvriront vos besoins en contribuant à vos performances athlétiques, physiques et cognitives.
Guggulbolic est une formule qui optimizera votre metabolisme et ameliore les effets des lipides dans le sang ....
34.90 €
28.90 €
Remise: 6.00 €
Fyre est un brûleur de graisses Premium 100% naturel, conçu pour aider les personnes dans leurs objectifs de perte de poids d'une manière sûre et ...
49.90 €
43.90 €
Remise: 6.00 €
SyntraEC contient l'anabolisant naturel le plus puissant du monde. Il stimule le métabolisme, la synthèse des protéines et la formation de globules...
49.90 €
39.90 €
Remise: 10.00 €
«« Début

« Préc

1

Suivant »

Fin »»
Résultats 1 - 3 de 3
Erreur: Failed to retrieve the Currency Converter XML document.