| | |
| --- | --- |
| | Votre panier est actuellement vide. |
MagOx 400 (120 gélules)
Complément anti-acidité de magnésium MagOx 400 (120 gélules)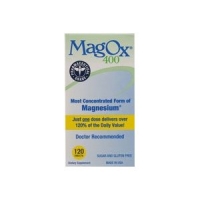 Agrandir l'image
Fournisseur : Health Care
Description
MagOx 400 
Les gélules sont 35% plus petites que les gélules de chlorure du magnésium. Alternativement, elles peuvent être écrasées et être mélangées avec du liquide ou de la nourriture. Magox400 est un complément de qualité de degré pharmaceutique. Ceci signifie qu'on utilise un processus de production qui assure de la pureté et de la qualité dans chaque gélule. Le symbole de degré pharmaceutique signifie l'utilisation de matières premières supérieures, essais de laboratoire étendus, une bonne installation d'accord avec l'actuelle pratique de fabrication (cGMP) et un contrôle de qualité sur l'empaquetage et les expéditions.
Magox 400 est continuellement défendu par les dispositifs de détection de métaux pour assurer que le produit final est libre de polluants nuisibles. Bien que cette procédure de contrôle ne soit pas requise, il sert comme exemple de la commission des produits pharmaceutiques de Blaine sa qualité et à sécurité du produit.
Sans sucre, gluten, des hydrates de carbone ni du sodium
Forme concentrée de magnésium
Formulé pour fournir une absorption supérieure près de la réalisation d'un niveau de dissolution de 99%
Pour l'utilisation comme approvisionnement quotidien de magnésium
Prenez 2 gélules quotidiennes avec de la nourriture ou comme dirigé par votre professionnel de la santé
Ingrédient actif (dans chaque gélule)
Oxyde de magnésium 400mg USP ............................................................
But
Anti-acidité
Applications : Allège l'indigestion acide, malaise stomacal 
Avertissements : Consultez votre médecin avant d'utiliser si vous prenez un médicament de prescription. Si vous êtes enceinte, en allaitant ou avez maladie du rein, consultez votre médecin. Il peut avoir un effet laxatif. Les antiacides peuvent réciproquement agir avec certains médicaments de prescription. 
EN utilisant ce produit
Ne prenez pas plus de 2 gélules dans des périodes de 24 heures.
Si les symptômes persistent par plus de 2 semaines, consultez votre médecin. 
Maintenir hors de la portée des enfants
Instructions
Prenez 2 gélules quotidiennes avec de la nourriture ou selon ce qui était dirigé par votre médecin. 
Autres informations
Chaque gélule contient 241.3mg de magnésium élémentaire.
Stocker dans un endroit sec à 20-25°C (68-77°F) 
Ingrédients inactifs Dioxyde de silicium colloïdal, crospovidone, ethylcellulose, stéarate de magnésium, polomaxer, glycol de polyéthylène
---
Erreur: Failed to retrieve the Currency Converter XML document.