| | |
| --- | --- |
| | Votre panier est actuellement vide. |
Peau, Ongles, Et cheveux 60 caps
SOLGAR : Les cheveux, la peau et les ongles sont composés de tissus conjonctifs leur servant de charpente et constitués de plusieurs protéines fibreuses comme le collagène, l'élastine ou la kératine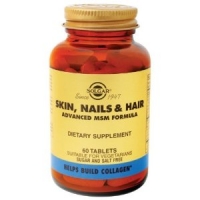 Agrandir l'image
Fournisseur : Solgar
Description
Les cheveux, la peau et les ongles sont composés de tissus conjonctifs leur servant de charpente et constitués de plusieurs protéines fibreuses comme le collagène, l'élastine ou la kératine. Ces protéines leur confèrent élasticité et résistance grâce notamment à leur composants respectifs (acides aminés) et à leur forme en hélice. Par exemple, le collagène est composé de trois longues chaînes polypeptidiques (enchaînement de centaines d'acides aminés) s'enroulant en une triple hélice régulière (voir la molécule de collagène représentée ci-contre). Le collagène est composé majoritairement de glycine, d'hydroxylysine et d'hydroxyproline (dérivés respectivement de lysine et de proline). L'élastine comporte surtout lysine et hydroxyproline. La kératine est particulièrement riche en acides aminés soufrés formant entre eux des ponts disulfures lui conférant stabilité et résistance exceptionnelles. Les cheveux sont composés de 3 types de protéines, notamment de kératine, plus ou moins soufrée suivant l'emplacement de la protéine : à l'intérieur ou en surface des filaments constituants les cheveux. La peau est également riche en kératine. La couche supérieure de l'épiderme (couche cornée) comporte des cellules remplies de kératine très riche en soufre. Elle contient aussi une grande quantité de collagène et d'élastine. Les ongles sont composés essentiellement de kératine : elle forme une matrice qui maintient soudées les cellules des ongles et elle est responsable de leur dureté et de leur flexibilité. Au sein de la kératine, le soufre, surtout présent sous forme de cystéine, représente environ 10 % de l'ongle. La cystéine forme des liaisons ou ponts disulfures stabilisant la kératine. Les ongles cassants sont le résultat de liaisons trop faibles entre les cellules des ongles. Le soufre est un composant du collagène, de la kératine, de l'élastine. Il est essentiel pour la formation des ponts disulfures, liaisons permettant l'enroulement en hélice de ces protéines. Le MSM est une source de soufre adéquate pour la synthèse du collagène. C'est un composé soufré organique trouvé dans les fruits, les légumes, certaines plantes, chez les animaux et même chez l'homme à l'état de traces. Les acides aminés soufrés (cystéine, méthionine...) stimulent la synthèse du collagène et sont importants pour la régénération des tissus en cas de blessures et de brûlures. L-Proline et L-Lysine sont des composants majeurs du collagène et de l'élastine. La vitamine C est indispensable à la transformation de ces acides aminés en hydroxyproline et hydroxylysine essentiels à la formation de la triple hélice du collagène. Le silicium est vital pour l'activité des enzymes requises pour la formation du collagène. En cas de déficiences en silicium, les concentrations en collagène sont inférieures. Cuivre et zinc sont des minéraux également indispensables pour la formation du collagène et de l'élastine. Pour un résultat optimal, une cure d'au moins trois mois est recommandée.
INDICATIONS SOLGAR PEAU ONGLES ET CHEVEUX Perte de cheveux, peau abîmée, ongles fragiles ou cassants.
COMPOSITION SOLGAR PEAU ONGLES ET CHEVEUX Composition pour 2 comprimés : Cellulose végétale : 1104 mg MSM (méthylsulfonylméthane) : 1000 mg Vitamine C (acide L-ascorbique) : 120 mg Acide stéarique végétal : 59 mg L-Lysine HCL : 50 mg L-Proline : 50 mg Silice : 50 mg Zinc (citrate de zinc) : 15 mg Stéarate de magnésium végétal : 15 mg Glycérine végétale : 9 mg Cuivre (glycinate de cuivre) : 2 mg
CONSEILS D'UTILISATION SOLGAR PEAU ONGLES ET CHEVEUX Posologie : 2 comprimés par jour. Pour un résultat optimal, une cure d'au moins trois mois est recommandée.
---
Erreur: Failed to retrieve the Currency Converter XML document.