| | |
| --- | --- |
| | Votre panier est actuellement vide. |
NOZ I.V. gout Myrtille 630 gr
NOZ I.V. GOUT MYRTILLE 630gr DE NUTRABOLICS est un système global de pré-entraînement avec activation musculaire et amplification d'énergie.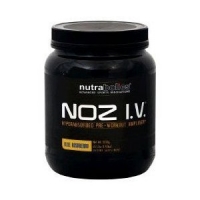 Agrandir l'image
Fournisseur : Nutrabolics
Description

NOZ I.V.™
L'amplificateur d'entraînement à absorption immédiate
Stratégie NOZ I.V est un système global de pré-entraînement avec activation musculaire et amplification d'énergie. Il a été spécifiquement conçu pour l'amélioration de la performance sportive en créant un environnement anabolisant adéquat qui contribue à vous faire dépasser toutes les limites.
Disons plus simplement que vos séances d'entraînement vont s'intensifier en vous permettant de dépasser vos objectifs de manière optimale. Avec une foi inébranlable dans des résultats basés sur la performance, Nutrabolics a conçu NOZ I.V, un complément alimentaire de relation totale entre l'esprit et le muscle pour rendre vos entraînements plus productifs et amplifier vos congestions musculaires.
Conçu pour soutenir l'augmentation de l'énergie, de la force et de l'endurance, associé à un entraînement intense*
Conçu pour soutenir l'assimilation cellulaire*
Soutient la présynthèse de l'ATP*
Conçu pour favoriser un renforcement de la synthèse des protéines*
Renferme des facteurs anabolisants insulinotropiques*
Conçu pour soutenir une récupération musculaire accélérée*
La méthode NOZ I.V.: Il s'agit d'amener les composants énergisants vers le muscle et de le saturer de nutriments. Les principaux objectifs pour un entraînement efficace sont les suivants:
Travailler suffisamment fort et lourd pour briser temporairement les cellules musculaires ciblées et envoyer un signal au cerveau pour démarrer un nouveau cycle de croissance et de réparation.
Fournir des nutriments aux muscles actifs pour enclencher une pression intracellulaire suffisante (une congestion) à l'intérieur de la cellule. La majorité des athlètes arrivent au premier objectif. Pourtant, ils sont nombreux à échouer au deuxième pallier. La pression intracellulaire maximale donne le coup d'envoi d'un processus d'expansion de la paroi cellulaire pour engendrer une pression identique aux futures sessions d'entraînement (adaptation physiologique).
Avec le temps, les muscles s'adaptent en fonction du développement par une plasticité plus grande de la paroi cellulaire afin de retenir plus d'éléments riches en énergie et, à leur tour, effectuer plus de travail. Pour mettre en fonction ces "super" cellules musculaires, le système d'actions multiples, NOZ I.V. renferme une combinaison d'amplificateurs d'oxyde nitrique, d'agents de concentration neurale, de processus de diffusion des nutriments complexes et de composés de recyclage de l'énergie intracellulaire afin de soutenir un régime de travail cellulaire structuré et des entraînements plus puissants.
Intégration totale NOZ I.V.: Activation musculaire neurale, adaptation cellulaire contrôlée et composés d'expansion
Système d'amplification de l'oxyde nitrique: NOZ I.V. fournit un bon nombre d'ingrédients ovationnés par les critiques et conçus pour stimuler la production de l'oxyde nitrique. Cette molécule contrôle la circulation sanguine, transmet les messages entre les cellules nerveuses tout en favorisant une diffusion plus homogène des nutriments; un ensemble d'éléments essentiels et populaires parmi les athlètes d'élite et les culturistes.
Les trois puissants amplificateurs d'oxyde nitrique de NOZ I.V. se basent sur de l'arginine Alpha-Kétoglutarate de qualité pharmaceutique, du malate de L-Citrulline et des extraits de plantes tel l'Eleutherococcus Senticosus. L'avantage procuré par cette combinaison unique permet également de bloquer les mécanismes biochimiques du corps qui pourraient dégrader la production d'oxyde nitrique sur le long terme.
Matrice de récupération intracellulaire: Pour maintenir une performance à son maximum, les muscles doivent ralentir plusieurs processus métaboliques limitants et créés par un entraînement intense comme la perte d'énergie cellulaire, de l'ATP, de l'accumulation des résidus d'ammoniac et l'accroissement de la respiration cellulaire. NOZ I.V. renferme cinq composants distincts (Bêta-Alanine, Anserine, Homocarnosine, Adénosine 5 ' Triphosphate Disodique et l'acide (2S)-2-amino-4- carbonyle-butanoïque qui fonctionnent en interdépendance pour réduire ces facteurs de limitation. Dans cette optique, NOZ I.V. représente une avancée inédite pour la science de la performance musculaire.
Complexe avancé d'aide neurale: La capacité de produire des contractions musculaires maximales est intrinsèquement liée à ce que la science appelle la transmission neuromusculaire. En d'autres termes, la capacité de recruter un plus grand nombre de fibres musculaires produit plus de puissance, plus de force et d'endurance. NOZ I.V. offre une gamme de six composés qui travaillent en synergie pour faire participer un maximum de fibres musculaires durant des périodes de temps plus longues, ce qui permet d'engendrer plus souvent à des entraînements parfaits.
Système intégré de booster cellulaire et de distribution des nutriments: NOZ I.V. permet de rendre plus disponibles les substrats énergétiques principaux comme les glucides à chaîne courte, moyenne et longue pour les muscles en fonctionnement et fournit également une grande quantité de composants nutritifs pour les transporter vers les centres de stockage. Cette double action déclenche l'amélioration de la performance des cellules musculaires et du volume général, ce qui permet aux athlètes d'atteindre leur meilleur niveau et d'optimiser leur régime et leurs programmes d'entraînements.
INFORMATIONS NUTRITIONNELLES
Une dose
1 mesure (21 g)
Portions par boîte
30
Quantité par dose
% AJR*
Calories
15
Glucides totaux
3 g
1%*
Dont sucres
2 g
Sodium
5 mg
0,2%*
Potassium
25 mg
0,7%*
Complexe NOZ I.V.™
19300 mg
Système d'amplification de l'oxyde nitrique
Arginine Alpha-Kétoglutarate de qualité pharmaceutique†, Malate de L-Citrulline†, Eleutherococcus Senticosus†
Complexe de récupération intracellulaire
Bêta-Alanine (sous forme d'acide 3-aminopropanoique)†, Homocarnosine (sous forme de gamma-aminobutyril-L-Histidine)†, Ansérine (sous forme de bêta-alanyl-N- méthylhistidine)†, Adénosine 5' Triphosphate Disodique, acide (2S)-2-amino-4- carbonyle-butanoïque†
Complexe avancé d'aide neurale
Thiamine Di(2-méthylproprionate) Disulfide†, Acadia Rigidula†, 4-hydroxyphénylalanine†, Vinpocétine†, Caféine anhydre†, L-Glycine (en tant qu'acide aminoéthanoique)†
Complexe insulinotropique multi-phases
Bis Picolinato Oxo Vanadium†, Phellodendron HCL†, L-Taurine (sous forme d'acide 2-aminoéthanosulfonique)
Système de diffusion programmée (I.V.)
Tréhalose†, maltose†, cristaux purs de glucose†, sel marin†, chélate de calcium†, chélate de magnésium†, chélate de potassium†
*. Le pourcentage des AJR est calculé sur la base d'un régime à 2000 calories.
† AJR (Apport Journalier Recommandé) indéterminé.
Autres ingrédients : 100% pure maltodextrine à longue chaîne de polymères, arômes naturels et artificiels, sucralose, acésulfame de potassium, colorant FD&C Jaune #5.
Conseils d'utilisation : En tant que complément alimentaire, mélangez 1 mesure de NOZ I.V.™ dans 200 à 300 ml d'eau froide. Consommez 1 dose dans les 20 minutes précédant un entraînement. Une fois que vous avez défini la tolérance au produit, commencez par le prendre l'estomac vide. Ne consommez pas plus de 1,5 mesure en une seule fois.
MISE EN GARDE : Consultez votre médecin avant de consommer NOZ I.V. si vous avez des doutes sur votre état de santé actuel ou si vous souffrez de quelconques maladies et affections déclarées. Ne pas utiliser si vous êtes âgé de moins de 16 ans ou plus de 55 ans. Ne pas consommer avec d'autres stimulants. Ne pas prendre moins de 4 heures avant d'aller au lit. Gardez hors de portée des enfants et des animaux. Ne pas dépasser le dosage recommandé.
Ne pas donner aux enfants de moins de 18ans, aux femmes enceintes ou allaitant, aux personnes sous traitement médical.
Mettre hors de la portée des enfants.
Complément alimentaire. Ne constitue pas un substitut d'un régime alimentaire varié.
Respecter les dosages recommandés.
---
Erreur: Failed to retrieve the Currency Converter XML document.