| | |
| --- | --- |
| | Votre panier est actuellement vide. |
D-RIBOSE 1000mg 60 Caps
Le D-Ribose Source naturel est un sucre pentose requis pour la synthèse d'ATP (adénosine triphosphate), molécule primaire porteuse d'énergie de votre corps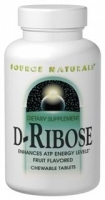 Agrandir l'image
Fournisseur : Source natural
Description
D-RIBOSE 1000mg 60 Caps
• Augmente l'approvisionnement énergétique cellulaire
• Nécessaire pour la synthèse d'ATP
• Améliore la santé, le style de vie et le niveau de fitness
Qu'est-ce que le D-Ribose?
Le D-Ribose est un sucre pentose requis pour la synthèse d'ATP (adénosine triphosphate), molécule primaire porteuse d'énergie de votre corps. Au cours d'un exercice intense, de grandes quantités d'ATP peuvent être utilisées au niveau des cellules du myocarde et des muscles squelettiques. Une supplémentation en D-Ribose peut favoriser la restauration d'ATP pour améliorer votre santé, votre style de vie et votre niveau de fitness. De plus, de nouvelles recherches prometteuses explorent actuellement l'utilisation du D-Ribose pour réparer la fatigue musculaire pouvant résulter d'activités quotidiennes normales.
Le ribose est un monosaccharide simple à 5 carbones, ou sucre pentose. Il est utilisé par le corps pour synthétiser d'importants composés métaboliques, dont l'ATP, la molécule d'énergie. Le ribose est un bloc de construction de l'ARN utilisé pour la transcription génétique, et est lié au désoxyribose, qui est un composant de l'ADN. Le ribose joue un rôle vital à la fois dans le métabolisme du myocarde et des muscles squelettiques, largement grâce à sa participation à la synthèse d'énergie ATP.
Le ribose est formé lorsque du glucose issu de la nourriture que vous mangez est acheminé par une voie appelée PPP (Pentose Phosphate Pathway ou voie des pentoses phosphates) et subit une série de réactions métaboliques. La voie PPP dans les cellules du myocarde et des muscles squelettiques est régulée par l'activité de deux enzymes spécifiques. La formation de ribose dans ces régions est donc un processus lent.
Quelle est l'action du D-Ribose?
Que vous soyez un athlète pratiquant une activité physique très intense ou quelqu'un de plus sédentaire qui souhaite tout simplement énergiser les cellules de votre corps, D-Ribose de Source Naturals est un composé important.
Des recherches montrent qu'une supplémentation de ribose favorise le réapprovisionnement plus rapide d'énergie ATP au muscle cardiaque et aux muscles squelettiques appauvris pour compenser la production naturellement lente au sein des cellules.
Le D-Ribose supplémente les deux systèmes métaboliques profonds les plus basiques parmi douze identifiés par Source Naturals comme étant essentiels pour votre santé optimale: Énergie et cellules/ADN.
Une Portion: 3 Comprimés à mâcher
Portions Par Flacon: 20
Quantité Par Portion:
• Calories 15
• Glucides (total) 4 g
• Sucres 4 g
• D-Ribose 3 g
Autres ingrédients: Fructose, stéarate de magnésium, dioxyde de silicium colloïdal, goût de pêche naturel, acide citrique, goût de cerise naturel.
Mâchez 3 à 5 comprimés par jour.
Attention: En cas de grossesse, de préparation à la grossesse, d'allaitement, de goutte, de troubles du métabolisme glucosique, tels que le diabète ou l'hypoglycémie, ou de prise de tout médicament d'ordonnance, veuillez consulter votre médecin avant d'utiliser ce produit.
---
Plus de catégories
Erreur: Failed to retrieve the Currency Converter XML document.