| | |
| --- | --- |
| | Votre panier est actuellement vide. |
BCAA ETHYL ESTER 180 gél
BCAA ETHYL ESTER 180 gél Une formule d'acides aminés à chaîne branchée idéale pour des muscles en pleine forme ! attention lisez ci dessous les proprietes de ces BCCA tres speciaux ,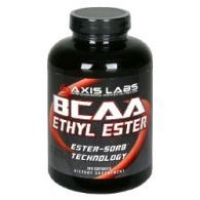 Agrandir l'image
Fournisseur : Axis Labs
Description
Points forts de BCAA Ethyl Ester :

- Puissante action anabolisante pour augmenter la croissance musculaire
- Augmente la synthèse des protéines et la rétention d'azote en activant les gènes anabolisants
- Augmente la quantité des hormones anabolisantes
- Puissante action anti-catabolique pour limiter la dégradation musculaire
- Préservation musculaire
- Préservation du glycogène
- Favorise la récupération musculaire
- Une production de lactate plus faible
- Une biodisponibilité incomparable grâce aux BCAA


BCCA   E2TM est le petit plus anabolisant qu'il vous manquait

BCCAE2TM est la solution pour améliorer votre force et votre prise de muscles grâce à une action anabolisante non-hormonale. BCCAE2TM active les gènes nécessaires à la synthèse des protéines et à l'anabolisme de vos muscles ce qui vous offre des gains impressionnants. BCCAE2TM permet également d'augmenter la libération d'hormones telles que l'hormone de croissance, les facteurs de croissance analogues à l'insuline (IGF-1) et l'insuline, ainsi que de réduire la sécrétion de cortisol. BCCAE2TM agit tel un anti-catabolique en empêchant la dégradation du tissu musculaire de votre corps et en l'utilisant comme énergie. Un régime riche en protéines n'est pas suffisant pour assurer un état anabolisant à votre corps. BCCAE2TM activera l'anabolisme de vos muscles et vous assurera une forte construction musculaire.

BCAAE2™ d'Axis Labs est une formule surpuissante contenant les acides aminés essentiels que sont la L-Leucine, la L-Valine et la L-Isoleucine, sous une forme d'ester éthylique révolutionnaire et dans des proportions précises afin d'optimiser leur efficacité. Ces trois acides aminés sont connus sous le nom d'acides aminés à chaîne branchée et jouent un rôle important dans la synthèse des protéines et le métabolisme énergétique. Votre corps n'a pas la possibilité de fabriquer ces acides aminés à chaîne branchée ; vous devez donc les obtenir grâce à votre alimentation. Des études ont montré qu'ils étaient très importants pour de nombreuses raisons, en particulier pour la croissance musculaire et la récupération. BCCAE2TM est réellement à la pointe en matière de compléments conçus biochimiquement.
Valeurs nutritives :
Dose : 4 gélules
Doses Par Boîte : 45

Quantité Par Dose :

Matrice BCAAE2TM : 3 200 mg
Chlorhydrate d'Ester Ethylique de L-Leucine : 1 600 mg
Chlorhydrate d'Ester Ethylique de L-Isoleucine : 800 mg
Chlorhydrate d'Ester Ethylique de L-Valine : 800 mg
Conseils d'utilisation :
En tant que complément alimentaire, prenez quatre gélules deux fois par jour.

Les jours d'entraînement :

Prenez quatre gélules une heure avant votre entraînement puis quatre autres juste après.

Les jours de repos :

Prenez quatre gélules avec votre premier repas puis quatre autres avec le repas suivant, quatre à six heures plus tard.
Ingrédients :
Gélatine, Stéarate de Magnésium
---
Erreur: Failed to retrieve the Currency Converter XML document.