| | |
| --- | --- |
| | Votre panier est actuellement vide. |
ANABOL 5 120 caps
Anabol 5 Au prix de 44.90 est un agent anabolisant non steroidien Creant un environnement anabolisant , Anabol 5 est capable d'augmenter la proteine qui est synthetisee par vos muscles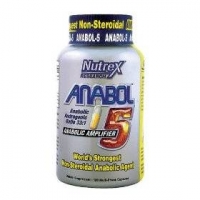 Agrandir l'image
Fournisseur : Nutrex
Description
Anabol 5 est l'agent anabolisant non stéroïdien selon Nutrex le plus puissant au monde. En créant un environnement extrêmement anabolisant et anticatabolisant, Anabol 5 augmente radicalement la quantité de protéine qu'un muscle peut synthétiser.
Lorsque Anabol 5 est utilisé avec un programme de musculation intense, les propriétés adaptogènes d' Anabol 5 stimulent l'anabolisme général de votre corps, bloque la décomposition des protéines musculaires et combat la fatigue du muscle.
Anabol 5 représente le premier complément qui booste efficacement le cycle de fabrication du corps de ses propres protéines à un niveau non hormonal ni stéroïdien.
-Anabol 5 est un puissant Anabolisant
-Anabol 5 va booster vostre taux de testosterone
-Anabol 5 va faire exploser vos muscle hors limites
-Anabol 5 a un systeme de liberation sur 2 phases
Pour garder l'anabolisme élevé durant toute la journée, Anabol 5 se présente sous la forme de capsules à effets immédiats et libération multiphases progressives.
Phase #1: Capsule liquide à effets immédiats par système de réponse anabolisante : le liquide contenu à l'intérieur de la capsule permet à votre corps de rester en phase anabolique de construction musculaire dans les minutes qui suivent la prise. C'est particulièrement crucial après le réveil du matin et après l'entraînement.

Phase #2: Amplificateur anabolisant à libération étendue à l'intérieur de la capsule : en plaçant certains ingrédients sélectionnés de manière séparée dans la capsule, nous avons très largement étendu le niveau d'activité anabolisant. Une fois que le crucial complexe anabolisant de phase 1 à action rapide a atteint vos muscles, les propriétés anabolisantes à long terme de phase 2 prennent le relais .
Une Portion Anabol 5 : 2 Capsules

Portions par Flacon: 60
Quantité Par Portion Anabol 5

• Agent Anabolisant Non Stéroïdien Multiphase 155 mg
• Dicyclopentanone 10 mg
• 6-Céto-Diosgénine 100 mg
• Ester d'Acétate 25 mg
• Ester d'Acide Propanoïque 25 mg
• Ester de Cypionate 25 mg
• Ester de Décanoate 25 mg
• Acétate d'Hécogénine 10 mg
• Undécanoate-one-3-one-6-diol-5a-Spirostane 25-R 25 mg
• Racine de Maral (Rhaponticum Carthamoides) 10 mg
Autres Ingrédients Anabol 5 : Huile de Graines de Sésame, Phosphate Dicalcique, Gélatine, Tocophérols Mélangés, Stéarate de Magnésium, Oxyde de Titane, Colorants E102 et E110.

Posologie Anabol 5
Prendre 2 capsules deux fois par jour. Pour de meilleurs résultats, prendre 2 capsules le matin avec un repas et 2 capsules avec le repas du soir. Faire un cycle de 12 semaines maximum et faire une pause de 2 semaines.
---
Erreur: Failed to retrieve the Currency Converter XML document.