| | |
| --- | --- |
| | Votre panier est actuellement vide. |
MUSCLE FUEL ANABOLIC 4kg / 4000g (Choc)
Muscle anabolic est pour une prise de masse rapide , avec ses 50% de proteines et une marque tres connue en Angleterre , ce n'est pas la moins chere mais regardez les ingredients ! Une efficacite hors normes pour les musculeux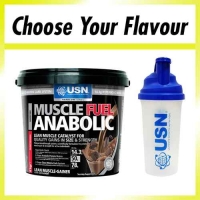 Agrandir l'image
Fournisseur : USN
Description
Muscle anabolisant de carburant USN est un supplément scientifiquement, formulé pour les athlètes qui sont sérieux au sujet de la construction de la masse musculaire. Muscle anabolisant de carburant a été optimisée avec les principaux nutriments de renforcement musculaire pour vous aider à grandir plus vite et une récupération plus rapide. Contenant tout ce dont vous avez besoin pour emballer la taille tout en un pratique dans une formule, Muscle Anabolic Fuel établit une nouvelle norme en matière de nutrition sportive. Il ne doit pas être utilisé par des personnes de moins de 18 ans. Il ne devrait pas être utilisé pour la perte de poids. C'est seulement pour les bodybuilders et les athlètes ou les individus sur un plan gagnant de masse.
• 50g matrice protéique anabolisant par portion. Avancée acides aminés formule de livraison
• 14,300 mg Stack hyperbolique par portion pour optimiser la croissance musculaire
• libération de GH à partir de 5000 mg Glycine
• 1500mg Taurine de maximiser l'absorption des acides aminés et des nutriments et la production d'énergie
• 7000 mg Créatine Stack pour la croissance musculaire, la puissance et volumisation
• Riche en BCAA et glutamine pour aider à la croissance musculaire et la rétention d'azote
• mélange Lactazyme (enzymes lactose) pour l'absorption solide de lait optimale.
La taille du récipient: 2000g
Portion: 3 boules (150g)
Portions par flacon: 13
La taille du récipient: 4000g
Portion: 3 boules (150g)
Portions par flacon: 26
Quantité par portion:
Calories: 540
Protéines: 50g
Glucides: 78g
-Sucres: 11g
Fibre alimentaire: 1,7 g
Lipides: 2g
Vitamines et minéraux:
Sodium: 741G
Potassium: 202mg
La vitamine A (rétinol): 375ugRE
La vitamine B1 (thiamine): 0,5 mg
La vitamine B2 (riboflavine): 0,6 mg
Vitmain B6: 0,8 mg
Vitamine B12: 0.4mcg
Vitamine D (Calciferol): 1.9mcg
La vitamine C (acide ascorbique): 23 mg
La niacine: 6.8mg
La vitamine E (alpha-Topopherol): 3.8mgTE
Acide pantothénique: 1,5 mg
Acide folique: 75mcg
La biotine: 30mcg
Cacium: 243mg
Magnésium: 42 mg
Phosphore: 460 mg
Pile hyperbolique (14,300 mg)
-Creabolic Stack - La créatine monohydrate et Di-Créatine Malate
-MTOR Activator - BCAA, HMB (bêta-hydroxy bêta-Methylbutyrate), Taurine
Hyper-Volumax - L-Glycine, Beta Alanine
-Glutacell Tri-Stack - AKG glutamine, L-glutamine et glutamine peptide lié
-Testo-Force - Avena Sativa
Ingrédients:
Triple Carb Temps Formule presse (polymères à longues chaînes de glucose, des polymères de glucose à chaîne moyenne, fructose, dextrose monohydraté). USN STS protéine [concentré protéique de lactosérum et d'isolat de mélange, ultra purifiée protéine (eau filtrée) à haute isoflavones isolat de soja, caséinate de calcium, de la caséine micellaire, l'albumine d'oeuf, protéine de lait isoler], le monohydrate de créatine, le di-malate de créatine, la L-glycine, de cacao poudre, stabilisant, taurine, aromatisants, chlorure de sodium, phosphate de calcium, mélange d'édulcorant (sucralose, l'acésulfame-K), l'huile MCT (triglycérides à chaîne moyenne), Avena sativa, mélange Lactazyme, L-glutamine, peptides de glutamine, la glutamine AKG, HMB, mélange leucine, valine, isoleucine, leucine KIC, Beta-Alanine, l'EPA poudre (acide eicosapentaénoïque), vitamine et minéraux
Veuillez noter: les faits et les ingrédients nutritionnels peuvent varier légèrement entre les saveurs
Comme un complément alimentaire, ajouter 3 cuillères à 500ml-600ml d'eau froide. Utilisez un mélangeur ou un shaker main pendant environ 30 secondes. Avoir 1-2 portions quotidiennes (portions peuvent être réduites de moitié).
Important: les personnes de moins de 80 kg de - Avez-2 portions par jour pour les 5 premiers jours et seulement 1 portion par jour il-après.
Personnes de plus de 80 kg - Avez 2-3 portions par jour pour les 5 premiers jours et 1-2 portions par jour il-après. Ne pas combiner Muscle Fuel Anabolic avec tout autre produit de la créatine et de ne pas dépasser la dose journalière recommandée.
---
Erreur: Failed to retrieve the Currency Converter XML document.