| | |
| --- | --- |
| | Votre panier est actuellement vide. |
Probiotique naturel, 30 caps sans gluten ou produits laitiers
Culturelle stimule votre système immunitaire, améliore votre sante digestive, restaure l'équilibre naturel des bonnes bactéries dans votre tube digestif et protège la sante de votre organisme au quotidien.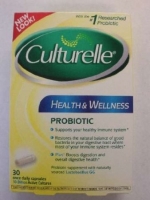 Agrandir l'image
Fournisseur : Culturelle
Description
Nous savons tous que manger bien et faire de l'exercice régulièrement sont fondamentaux pour une santé optimale.  Cependant faites-vous attention a votre a votre santé digestive?
Votre tractus intestinal est 70 % de votre système immunitaire.
C'est pourquoi il faut en prendre soin !
Régime alimentaire, stress, voyage et même certains médicaments favorisent les mauvaises bactéries qui se développent dans votre tube digestif. C'est un bouleversant de l'équilibre naturel.  Quand les mauvaises bactéries sont plus nombreuses que les bonnes bactéries, votre santé digestive et l'ensemble est ouverte à une foule de préoccupations potentielles.  Culturelle contient Lactobacillus GG - le probiotique le plus étudié au monde avec plus de 300 études cliniques prouvant son efficacité.  Il restaure naturellement et en toute sécurité la balance des bonnes bactéries. Sûre et appropriée pour les enfants de l'âge de 1 an et plus.
ingredients

sercice

1 Capsule

Service par boite

30
Lactobacillus GG

 10 Billion Cells*

Inulin Chicory Root Extract

 245 mg*
| | |
| --- | --- |
| | * Daily Value not established. |
Lactobacillus GG (10 milliards de cellules), inuline (extrait de chicorée) (racine), utilisation de Capsule végétarienne (naturel)
Posologie
Prendre 1 capsule par jour pour renforcer votre système immunitaire tout en favorisant la santé digestive. 
 La Capsule peut être ouverte et mélangée à une boisson fraîche ou un aliment.  Ne pas ajouter aux boissons ou aliments tièdes ou chauds. 
---
Erreur: Failed to retrieve the Currency Converter XML document.