| | |
| --- | --- |
| | Votre panier est actuellement vide. |
OXYELITE 130 GR 60 DOSES PUNCH
Oxyelite 130 gr est la nouvelle poudre de chez USPS , une formule qui va vous dechiqueter et couper comme vous ne l'avez jamais ete ! A essayer , c'est une nouveaute de Xtremdiet.com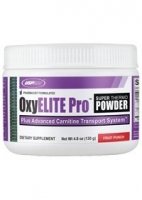 Agrandir l'image
Fournisseur : USP Labs
Description
Oxyelite Poudre 130 Gr est La grande formule  sous forme de poudre. USP a intensifié leur action en incluant un système de transport avancée. Ce système vous permettra d'absorber les  ingrédients d'Oxy Elite Pro Thermo Poudre plus rapidement et efficacement . 
Avec l'exercice Stim la matrice de Usp Labs va vous donner de l'énergie dont vous avez besoin pour effectuer vos séances d'entraînement et que vous poussiez aux plus hauts niveaux vos resultats. 
La nouvelle forme de poudre permet également a  OxyElite d'entrer plus rapidement dans votre sang sans capsules a prendre..
Oxyelite Pro poudre, qui a été initialement publié seulement en Australie, est maintenant ici aux Etats-Unis!
USPLabs ne pas simplement copier la formule originale de poudre australien, il ne tenait pas la formule de capsule droit de la baignoire.
Au lieu de cela, ils ont ajouté un mélange impressionnant d'ingrédients qui sont parfaits pour la journée en sirotant brûle-graisses:

Énergie - Cela va sans dire. Il ya caféine ici - nous croyons qu'il est 125mg par portion - une quantité parfaite.

Fat Burning via la lipolyse et la suppression de l'appétit - Bien sûr, c'est tout l'objet de Oxy ELITE. Les nouveaux ingrédients fournissent à la fois un appétit sain et utilisent différentes voies pour brûler la graisse. La caféine ne reçoit que les choses vont - c'est ces autres ingrédients décrits ci-dessous qui le fait fonctionner vraiment!

La concentration mentale - C'est une nouvelle et passionnante. La plupart des brûleurs de graisse ne fournissent aucun coup de pouce aux neurotransmetteurs de votre cerveau. L'impulsion principale est de caféine. Mais il ya un ingrédient ici que nous aimons totalement pour la concentration mentale. Vous allez le sentir.

Endurance - La fatigue est toujours moins d'un problème lors de la prise des capsules originales Oxyelite Pro. Maintenant, il ya un autre composé naturel qui stimule la plupart des utilisateurs VO2 max (consommation maximale d'oxygène), ce qui fait que vous durent plus longtemps et moins de fatigue.
Les saveurs sont jusqu'ici prévu pour être punch aux fruits, pomme verte, framboise et limonade, qui USP a cloué. Voyons donc les détails. Mise à jour: il y aura aussi la framboise bleue.

Le New Oxyelite Pro Powder Profil des ingrédients

Tout d'abord, parlons de ce qui a été retiré des deux versions Oxyelite Pro capsule.
Avec l'ancien:
Il n'y a pas DMAA, tout comme le nouveau Oxyelite Pro Formula. DMAA a des propriétés incroyables (Focus, suppression de l'appétit, de l'énergie et l'amélioration de l'humeur), mais il est interdit en Australie et quelques autres pays en raison d'être comme une performance excellent activateur. Si vous voulez DMAA et que vous êtes aux États-Unis, vous devriez coller avec l'original Oxyelite Pro formule, lien ci-dessus.

Hemerocallis a été supprimé. Ceci a été mis dans la nouvelle élite Oxy, mais a probablement été supprimée en raison de problèmes de goût. Il est généralement utilisé comme antioxydant de toute façon.
Bauhinia purpurea est également supprimée. Celui-ci a permis à la fonction de la thyroïde, et peut être manquée.
Ingredients nouveaux 
Norcoclaurine - Cela a été mis dans la nouvelle poudre OEP, et les utilisateurs aiment ce dû à son comportement thermogénique. C'est aussi dans Jack3d Micro, et ne manque jamais de vous réchauffer un peu. Très sûr - aussi connu sous le nom higenamine.
Aegeline, cela est fortement discuté dans notre page Versa-1 Ingrédients, où il est à des doses plus élevées. Il est clairement un appétit incroyable faim, et la libération réussie de Versa-1 a eu que de bons commentaires à cause de ce genre de choses. C'est aussi dans le nouveau Oxyelite Pro.
Caféine - Impossible d'avoir une poudre à brûler les graisses sans elle, 125mg.
Bitartrate de choline - plus incroyable, et ce n'est pas pour brûler les graisses. La choline est un composé extrêmement importante requise par les neurotransmetteurs du cerveau. On le trouve naturellement dans de hautes doses dans les œufs, mais si vous n'êtes pas manger des œufs entiers, vous allez aimer cela. Lorsque vous complétez choline, vous obtenez une "cadence de tir" plus de vos neurotransmetteurs, en vous donnant des montants sérieux de concentration cognitive.
Cela a probablement été mis dans le produit non pas parce qu'elle était nécessaire, mais parce qu'elle ajoute tant de valeur à quelque chose que vous pouvez déguster dans la journée. Il s'agit d'un supplément de «travail».
Tartrate de carnitine, également connu sous le nom de L-Carnitine L-tartrate, ou LCLT. Une autre version incroyable de L-Carnitine. En fait, il semble que chaque "sous-version" de la carnitine fonctionne mieux que l'ancienne norme L-Carnitine.
Dans le cas de LCLT, vous obtenez un coup de pouce du métabolisme, l'utilisation de l'énergie, et la récupération après l'effort. C'est également dans la poudre de TEST (élévateur de testostérone naturelle de l'USP), car il contribue à vos récepteurs aux androgènes. Il rend vos hormones fonctionnent mieux, ce qui rend tout fonctionne mieux.
La quercétine, extrait de Eriobotrya Japonica.
Il ya aussi de nombreux avantages pour discuter sur celui-ci. Notre préféré est qu'il vous aide à métaboliser l'énergie mieux, mais il améliore aussi l'endurance
Oleoylethanolamine - Le monde coupe-faim a manqué depuis DMAA a été supprimée.
Cette étude permet de dire tout cela.
Yohimbe (Pausinystalia johimbe) (écorce) Extrait (AlphaShred) - Dernier point, mais non le moindre, genre préféré de tout le monde de Yohimbe.
Yohimbe est une plante intéressante. Sans doute, différents composés et extraits de celui-ci, en particulier yohimbine aider à brûler les graisses. Mais "Yohimbe sale", ou yohimbe mal extrait, donne aussi certaines personnes des réactions allergiques.
Les bonnes nouvelles, c'est que personne n'a eu un problème avec AlphaShred que nous sommes au courant. Il s'agit d'une nouvelle méthode d'extraction, et il semble qu'ils ont isolé ce qui fonctionne .
Avantages Oxyelite Poudre 130 Gr
-Oxyelite Poudre 130 Gr va acceler votre energie 
-Oxyelite Poudre 130 Gr va bruler vos graisses
-Oxyelite Poudre 130 Gr va vous permettre de Perdre du poids
-Oxyelite Poudre 130 Gr est un Super thermogénique
-Absorption rapide
Ingredients 
Portion: 1 Cuillere a cafe 
Portions par flacon: 60
OEP Thermo-Poudre Blend 1058,5 mg
  ExerciseStim Matrice:
     La choline Bitartate, caféine anhydre (125mg), Aegeline, Noroclaurine HCl, Yohimbe (Pausinystalia johimbe) (écorce) Extrait (AlphaShred)
OTCN2 système de transport Carnatine
     L-Carnatine-Tarate, (Z)-N-(2-hydroxyethyl) octadec-9-énamide, Eriobotrya Japonica (Leaf) Extrait (normalisé pour Triterpenoids ursane-Type)
Posologie : Prendre 1 cuillere 1 a 2 fois par jour dilue  dans un jus de fruit ou la boisson de votre choix . de preference dans les 2 h avant un antrainement physique . Brulez votre graisse plus vite et redecouper votre physique pour l'ete , ou pour des regimes xtremes .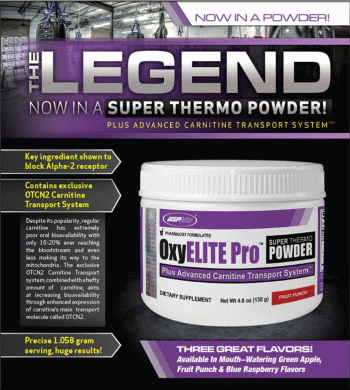 ---
Erreur: Failed to retrieve the Currency Converter XML document.