| | |
| --- | --- |
| | Votre panier est actuellement vide. |
L-Theanine 200 mg Suntheanine 60 caps
Acheter L-Theanine 200 mg produit 100% vegetarien et Bio ,Reduisez votre stress , prevenez vos crampes ou protegez votre coeur .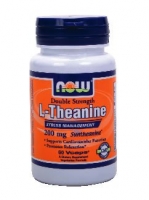 Agrandir l'image
Fournisseur : Now Foods
Description
La thiamine ou vitamine B1 est une substance cristalline incolore, qui agit comme catalyseur dans le métabolisme des sucres, permettant à l'acide pyruvique d'être absorbé et aux sucres de libérer leur énergie. La thiamine joue aussi un rôle dans la synthèse des substances neuro-régulatrices. Les déficiences en thiamine causent le béri-béri, qui se caractérise par une faiblesse musculaire, une augmentation du volume du coeur, des crampes aux jambes et peut, dans les cas sévères, conduire à une déficience cardiaque et à la mort.
De nombreux aliments contiennent de la thiamine mais peu d'entre eux en fournissent à un niveau concentré. Les aliments les plus riches en thiamine sont le porc, les abats (foie, coeur et rognons), la levure de bière, la viande maigre, les oeufs, les légumes verts en feuilles, les céréales complètes ou enrichies, les germes de blé, les baies, les noix et les légumes. Le concassage des céréales enlève les parties du grain les plus riches en thiamine; par conséquent, la farine blanche et le riz blanc peuvent manquer de cette vitamine.
L'enrichissement largement répandu de la farine et des produits céréaliers a énormément limité le risque de déficit en thiamine, bien qu'il existe chez les alcooliques qui souffrent de déficience nutritionnelle.
Grace a L-Theanine 200 mg une Double Gestion du stress Force va renforcer la fonction cardiovasculaire et favoriser la relaxation *
-L-Theanine 200 mg est une Formule Végétariene.
-L-théanine est un acide aminé naturellement présent dans le thé vert.
-L-Theanine permet de se relaxer sans somnolence ou effets secondaires négatifs,L-Theanine est associée à d'autres agents calmants.
-La L-théanine prend également en charge la fonction cardiovasculaire grâce à cet effet de détente ainsi que ses propriétés antioxydantes.
Cette formulation de L-Theanine  inclut également inositol, un membre de la famille B-vitamine qui est essentielle pour la santé du cerveau et du système nerveux.
Ingredients :
chaque capsule contient 200 mg de L-Thiamine 
Posologie :  prendre 1 a 2 capsules par jour comme indique sur la boite 
---
Erreur: Failed to retrieve the Currency Converter XML document.