| | |
| --- | --- |
| | Votre panier est actuellement vide. |
Ultra Ripped 90 Caps
Ultra Ripped de chez Uiversal , un classique parmi les fat burners ...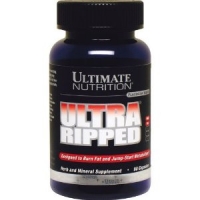 Agrandir l'image
Fournisseur : Ultimate nutrition
Description
l'ultra ripped de 90 caps est le bruleur de graisse efficace de ultimate nutrition Thermogenesis signifie l'augmentation du rythme métabolique. L'aurantium de citron fournit une combinaison unique de cinq amines adrénergiques (synephrine, N-methyltyramine, hordenine, octopamin et tyramine) pour stimuler les récepteurs Beta-3 qui augmentent le taux auquel la graisse est libérée des réserves corporelles (lipolyse) et augmentent aussi le métabolisme au repos. De plus l' extrait de Garcinia qui contient (-) l'acide citrique hydroxy (HCA), augmente la production et le stockage du glycogène tout en réduisant l'appétit et le gain de poids. HCA permet également de brûler des calories dans un cycle d'énergie semblable à la thermogénèse. L'extrait d'écorce de saule, normalisé en Salicine, fournit un effet synergique qui élève la dépense énergétique. Les études ont montré que la Salicine une fois utilisées en combination avec d'autres suppléments thermogéniques, favorise l'oxydation des graisses. Le thé vert s'avère être une excellente source de caféine naturelle, avec le gallate d'Epigalloocatechin qui contient des polyphénols (catéchine) (EGCG). Ils activent le système nerveux central, ce qui élève la capacité du corps à brûler des calories et de grosses cellules non désirées par le processus thermogéniques. Semblable au thé vert, le Guarana brésilien contient une grande source de caféine naturelle qui agit synergiquement avec les autres ingrédients de Ripped Fuel pour favoriser le thermogénèse.
Les capsules  (sans Ephedrine) sont fabriquées sous un contrôle de qualité très strict pour assurer votre satisfaction. Ingrédients : Chromium Picolinate (0,001 mg), Garcinia (extrait fruit, 120 mg), Orange amère (133 mg), mélange Ultra Ripped (277 mg), Guarana, Thé Vert, Extrait d'écorce de saule, cellulose, gélatine, stéarate de magnésium, phosphate dicalcium.
Conseil d'utilisation : la première semaine, prenez une capsule avec 250ml d'eau deux fois par jour, une heure avant les repas. Après une semaine, prenez 2 capsules avec 250ml d'eau deux fois par jour, une heure avant les repas. Boire beaucoup d'eau et ne pas prendre 6 heures avant l'endormissement, ce produit contient de la caféine.
 Attention : Ne pas donner aux moins de 18ans, aux personnes sous traitement médical, aux femmes enceintes ou allaitant. Ne pas laisser à la portée des enfants. Ne pas dépasser le dosages recommandées. Contient de la caféine, ne pas prendre le soir.
---
Erreur: Failed to retrieve the Currency Converter XML document.