| | |
| --- | --- |
| | Votre panier est actuellement vide. |
Menopause Formula 50 tablettes
One a Day Menopause Formula de 50 tablettes est ideal pour combattre les effets de la Menopause 24h/24.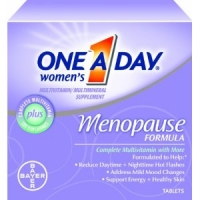 Agrandir l'image
Fournisseur : One A Day
Description
Complexe de Multivitamines / multiminéraux Pendant la Menopause avec multivitamines et les isoflavones de soja.
Formulée pour aider à: Réduire le jour + la nuit les bouffées de chaleur, lles changements  d'humeur légère et pour vous rendre l'énergie + une peau saine.
Une multivitamine complète pour les femmes victimes de symptômes de la ménopause. Parce que votre corps passe par des changements liés à la ménopause qui peut vous affecter à la fois physiquement et émotionnellement, vous pouvez bénéficier d'un soutien nutriment ajouté. Maintenant, vous pouvez obtenir une aide supplémentaire sous forme One A Day Formule ménopause. ITOS une multivitamine complete spécialement conçu pour les femmes à cette étape de la vie. Il prend en charge la solidité des os avec une excellente source de santé du sein de calcium, de vitamine D, la santé du cœur et l'énergie physique avec des niveaux élevés de vitamines B et de la peau saine avec des vitamines A, C et E. De plus, il contient des isoflavones de soja naturel, dont la recherche montre peut aider à réduire de façon significative jour et de nuit les bouffées de chaleur et d'aider les changements d'humeur légère. La ménopause est une partie naturelle de la vie que toutes les femmes vont avoir !
Ne laissez pas la ménopause vous envahir . Multivitamines Femmes va prendre en charge  la solidité des os, la santé du sein, la santé du cœur, la peau saine; énergie. Les isoflavones de soja Aide a réduire de jour et de nuit les bouffées de chaleur, les sautes d'humeur . (Ce résumé a été évalué par la Food and Drug Administration. Ce produit n'est pas destiné à diagnostiquer, traiter, guérir ou prévenir une maladie quelconque.) Made in USA.
---
Erreur: Failed to retrieve the Currency Converter XML document.