| | |
| --- | --- |
| | Votre panier est actuellement vide. |
SPRAY STUD 100 RETARD EJACULATION
Acheter STUD 100 contre l'ejaculation Precoce est un spray désensibilisant pour homme. Il contient de la lidocaïne, un principe actif qui agit efficacement pour ratarder l'ejaculation . Le Spray de désensibilisation STUD 100 pour homme est un pulvérisateu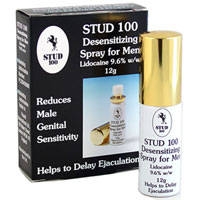 Agrandir l'image
Fournisseur : Stud 100
Description
STUD 100

est un spray désensibilisant pour homme.
Il contient de la lidocaïne, un principe actif qui agit efficacement contre l'éjaculation précoce. Le Spray de désensibilisation STUD 100 pour homme est un pulvérisateur à pompe de 12g.Retard Ejaculation garanti .
STUD 100 Retarde efficacement les éjaculations

STUD 100 Prolonge vos rapports sexuels

STUD 100 Meilleure satisfaction de votre partenaire

STUD 100 Rétarde les éjaculations

STUD 100 Provient d'une pharmacie d'officine
 .
Qu'est ce que STUD 100?
STUD 100 est un spray retardant qui prolonge vos érections, donnant ainsi à vous et votre partenaire, plus de temps pour apprécier le moment intime. Avec seulement 3 sprays de cette formule rapide et efficace, vous pouvez tous les deux bénéficier d'un rapport durable. STUD 100 a subi de nombreux essais cliniques qui ont prouvé son efficacité pour retarder l'éjaculation masculine. Ce produit est actuellement l'un des plus vendus en Europe et qui a permis à de nombreux hommes souffrant d'éjaculation prématurée.
Comment fonctionne le spray STUD 100 ?
Le principe actif de STUD 100, la lidocaïne (9.6%) , est un anesthésiant local utilisé pour réduire la sensibilité du pénis au touché durant le rapport sexuel. Ce processus permet de retarder l'éjaculation et donc de faire durer le rapport sexuel plus longtemps. Il est à appliquer avant la pénétration et la masturbation.
Comment utiliser le spray STUD 100 ?
La dose recommandée est de 3 à 8 pulvérisations sur le gland et le corps du pénis 5 à 15 minutes avant le rapport sexuel. Ne nettoyez pas votre pénis après l'application. Par précaution, il est conseillé de ne pas dépasser plus de 24 pulvérisations toutes les 24h. Vous pouvez utiliser STUD 100 avec un préservatif. De plus, si vous pensez utiliser ce traitement pendant plus de 3 mois, il est préconisé de consulter un médecin.
Existe-t-il des effets secondaires ?
Les effets secondaires sont très rares car le niveau de lidocaine absorbé dans les tissus du pénis est extrêmement bas. Il est déconseillé de le prendre si vous ou votre partenaire êtes allergiques aux anesthésiants locaux, sur les plaies ouvertes ou si votre partenaire est enceinte. Si vous souffrez de problèmes de reins ou de foie, il vous est recommandé de consulter votre médecin avant de commencer à prendre ce médicament. Ne pas prendre STUD100 si vous avez plus de 60 ans.
Quels sont les ingrédients ?
Le spray contient les ingrédients suivants : de l'Isopropyl myristate, de la lidocaine, de l'acide stéarique et du parfum
---
Erreur: Failed to retrieve the Currency Converter XML document.