| | |
| --- | --- |
| | Votre panier est actuellement vide. |
HYPER TEST 180 CAPS
HYPERTEST des laboratoirs Axis est la solution efficace et naturelle boostant votre testostérone à un niveau record, pour une réponse anabolique efficace et sure. HYPERTEST est tout simplement complexe de testostérone le plus complet sur le marché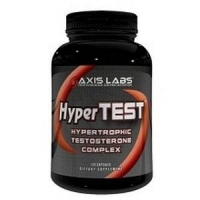 Agrandir l'image
Fournisseur : Axis Labs
Description
Complexe hypertrophique de Testostérone
Il n'y a pas d'hormone dans le corps comparable à la testostérone, stimulant à ce point la croissance musculaire et la libido.
HYPERTEST est la solution efficace et naturelle boostant votre testostérone à un niveau record, pour une réponse anabolique efficace et sure. HYPERTEST est tout simplement complexe de testostérone le plus complet sur le marché.
Préparez vous à votre nouveau 'vous': plus de masse maigre, des gains de force impressionnants et une libido incroyable.
Vous avez certainement testé des produits à base de tribulus auparavant, mais jamais encore comme celui-ci. Les autres produits vous promettent ce que HYPERTEST vous offre réellement.
HYPERTEST est au dessus de tout autre booster de testostérone naturel sur le marché. Ceci parce-que HYPERTEST utilise une système maximisant vos résultats: tout d'abord, le complexe HYPER LH utilise une gramme entière de Tribulus Terrestris Bulgare pure pour optimiser la production de testostérone. De plus, le complexe Hyper FT aide votre corps à libérer la testostérone de la protéine, permettant aux propriétés anaboliques de stimuler la croissance musculaire maximale ainsi que la libido.
Enfin, HYPERTEST a un complexe Hyper adaptogénique qui aidera votre corps à gérer le stress et à développer vos gains musculaires après des exercices sérieux.
La combinaison synergique de ces 3 complexes est garantie pour développer votre testostérone comme jamais auparavant.
Points forts :
1000mg de Tribulus Terrestris Bulgare d'une qualité exceptionnelle.
Complexe puissant sans testostérone

Ingrédients adaptogéniques pour optimiser les fonctions corporelles.

-Des niveaux de testostérone naturelle qui augmentent en flèche.
-Aide la composition corporelle
-Augmente la masse musculaire maigre
-Augmente la force musculaire pendant vos séances de gym
-Augmente la libido
-Complexe Hyper LH :
-Augmente la production de testostérone avec le complexe Hyper LH.

Le complexe Hyper LH contient 1000 milligrammes de Tribulus Terrestris Bulgare, des niveaux ultra élévés de saponines et de protodioscines. Choisissez Hyper Test, vous serez assuré de recevoir le mélange de Tribulus de meilleure qualité disponible sur le marché.
Pour maximiser votre système anabolique, il est impératif de développer la production de testostérone dans votre corps à 100%.
Malheureusement, plus nous vieillissons, plus notre taux de testostérone diminue. La production naturelle de testostérone peut également diminuer après l'utilisation d'hormones synthétiques. Le Tribulus terrestris développe des hormones en boostant des niveaux de testostérone en stimulant la glande pituitaire.
Cette stimulation a montré que la production de LH (Leutinizing Hormone), engendre une augmentation en niveaux de testostérone. Le tribulus Terrestris a un long vécu dans la médecine traditionnelle à travers le monde. Il a longtemps été utilisé pour traiter une large gamme de problèmes de santé telle que la baisse d'énergie, la dépression, l'impotence, l'infertilité chez les hommes et chez les femmes et pour booster la vigueur et la force.
Le tribulus terrestris a des effets record et les athlètes ont expérimenter le tribulus terrestris pour booster vos taux de testostérone, pour augmenter la perte de poids et pour augmenter la force et les performances athlétiques.
Le complexe Hyper FT :
Sans testostérone pour booster l'anabolisme et la libido.
La testostérone est généralement liée aux transporteurs de protéine dans le corps, ce qui empêche l'anabolisme et la croissance musculaire. Le complexe hyper FT aide votre corps à libérer la testostérone de la protéine rapidement, augmente les niveaux de testostérone libre dans votre corps. Ceci aide les effets anaboliques et stimule la croissance musculaire et la libido.
Ceci se produit grâce à des produits très puissants telle que l'Avena Sativa, l'Eurycoma Longifolia (long Jack) et le ZMA.
Le complexe HyperFT présent dans HYPER TEST contient aussi des stimulateurs de libido naturels et puissants tel que la racine de Maca, du Cnidium Monnieri et Epimedium (HGW). Que vous recherchez à réchauffer votre chambre, à vous sentir jeune et naturelle ou à combattre le déclin de libido en utilisant les hormones synthétiques, HYPERTEST vous apporte les ingrédients dont avez besoin.
Complexe Hyper Adaptogénique :
Le complexe Hyper Adaptogénique dans Hyper Test améliore l'immunité dans le corps, l'hormone endocrine et le système nerveux. L'adaptogène rajeuni les tissus dans le corps en favorisant un environnement anabolique.
Les adaptogènes ont prouvé qu'ils réduisaient le temps de récupération après des entraînements prolongés pour augmenter l'attention, la mémoire et la force. Les adaptogènes sont spécialement important pour la récupération musculaire après des exercices exhaustifs et réduisant drastiquement le temps de récupération.
Ils stimulent aussi la production d'énergie, la synthèse de glycogène dans les muscles et dans le foie ainsi que dans la synthèse de protéine musculaire. Les adaptogènes agissent pour restaurer l'hypothalamique et les récepteurs périphériques de sensibilité aux effets des hormones comme la cortisol. De cette façon, les adaptogènes permettent au corps de répondre à un grande quantité de stress. Le complexe adaptogénique aide les athlètes à développer leur performance, augmenter la récupération et augmenter l'environnement anabolique crucial pour la croissance musculaire. Il est grand temps pour éveiller votre capacité corporelle à produire de la testostérone pour un gain musculaire maximum avec Hyper test d'Axis Labs.
HYPERTEST est sans doute le plus excitant des compléments alimentaires boostant le marché des compléments alimentaires.
Demandez plus à vos compléments alimentaires, demander HyperTest d'Axis Labs.
Ingredients de Hyper Test 
HyperLH™ Complexe 1000mg †
Tribulus Terrestris Bulgare (80% Saponines, 40% Protodioscines), Tribulus Terrestris Bulgare (60% Saponines, 20% Protodioscine)
Complexe HyperFT™ 1285mg †
Avena Sativa (Avenacosides Standardisée A & B), Eurycoma Longifolia (100:1), Urtica Dioica, Racined de Maca, ZMA™, Epimedium, Chrysine, Cnidium Monnieri, Vitamine B-6, Biopérine™
Complexe Hyper Adaptogénique ™ 475mg †
Racine Eleuthero, Racine Ashwagandha, Rhodiola Rosea (3%)
*Valeur journalière basée sur un régime de 2000 calorie

†Valeur journalière non établie

Autres Ingrédients : Magnésium stearate, silice and gélatine.
Recommandations : En tant que complément alimentaire, prendre 4 capsules avant le coucher. Pour un bénéfice additionnel, lors de vos jours d'entraînement, prendre 2 capsules – une avant l'entraînement. Pour de meilleurs résultats, utiliser d'une façon continue pendant au minimum 8 semaines.
Ce produit est un complément alimentaire.
Tenir hors de portée des jeunes enfants.
Ne pas dépasser la portion recommandée chaque jour.
Les compléments alimentaires ne peuvent pas être utilisés comme substitut d'un régime alimentaire varié.
---
Erreur: Failed to retrieve the Currency Converter XML document.