| | |
| --- | --- |
| | Votre panier est actuellement vide. |
Quercetine 250 mg - 50 capsules
Quercetine 250 mg des laboratoires Natrol est un puissant antioxydant Flavonoïde, aux effets bénéfiques pour prévenir les maladies cardiovasculaire,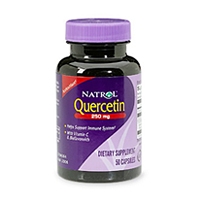 Agrandir l'image
Fournisseur : Natrol
Description
Quercetine 250 mg des laboratoires Natrol est un puissant antioxydant Flavonoïde, aux effets bénéfiques pour prévenir les maladies cardiovasculaire, les risques de cancer, les ulcères, les allergies, les cataractes, les virus et les effets anti-inflammatoires. Bien qu'on soit loin de tout connaître au sujet de la Quercetine, ses propriétés antioxydantes, anti-inflammatoires et antihistaminiques ont été démontrés au cours de nombreuses études in vitro.
Avantages de Quercetine 250 mg ?
Atténue les réactions allergiques

Atténue les crises d'eczéma ou d'urticaire

Diminue l'inflammation en cas de prostatite, de goutte et d'arthrite

Aide à combattre les infections virales

Aide à prévenir les cataractes

Action préventive contre les troubles cardiovasculaires
et certains cancers
Quercetine 250 mg, aux multiples vertus anti-oxydantes
La Quercétine est un flavonoïde, c'est-à-dire un des nombreux pigments qui donnent leur couleur aux fruits, aux légumes et aux plantes médicinales. On emploie parfois l'expression "nutriments semi-essentiels" pour désigner les flavonoïdes parce que, bien qu'on puisse survivre sans eux, ils sont nécessaires au maintien d'une bonne santé.
Pourquoi prendre de la Quercétine?
Allergies : Des études ont démontré que la Quercétine inhibait la production d'histamine, une substance qui est à l'origine du déclenchement
des réactions allergiques.
Douleur et Inflammation :La Quercétine a démontré des effets anti-inflammatoires plus complets que les médicaments anti-inflammatoires.
Prostatite : La Quercétine, à raison de 500 mg deux fois par jour, peut réduire significativement les symptômes de la prostatite chronique.
Système cardiovasculaire : les résultats d'une seconde étude portant sur 552 hommes de 50 à 69 ans, qui ont été suivis durant 15 ans, indiquaient que la consommation régulière d'aliments riches en flavonoïdes apportait une certaine protection contre le risque d'arrêt cardiaque.
Prévention du cancer : De nombreuses études clinique indiquent que la Quercétine peut inhiber le développement de diverses tumeurs cancéreuses.
Action antivirale : Au cours d'études, la Quercétine a atténué la virulence et inhibé la reproduction de divers virus, dont ceux de l'herpès, de la grippe et de la polio.
Indications pour Quercetine 250 mg
Prendre 2 gélules par jour pendant les repas au petit déjeuner.
Contre-indications pour Quercetine 250 mg
Ne convient ni aux enfants de moins de 12 ans.

Ne convient ni aux femmes enceintes ou allaitantes.

Il est possible que la Quercétine inhibe l'action des antibiotiques
de la famille des quinolones.

Les personnes souffrant d'hypotension ou d'un trouble de la coagulation sanguine devraient éviter d'en consommer de fortes doses.
Ingrédients de Quercetine 250 mg
Vitamine C 1000 mg quercetine 500 mg citrus bioflavonoid complex (extraits de citron, orange , pamplemousse, tangerine) 100 mg magnesium stearate, silica, gelatine.
---
Erreur: Failed to retrieve the Currency Converter XML document.