| | |
| --- | --- |
| | Votre panier est actuellement vide. |
Crème pour le cou 30 ml
StriVectin Neck Cream comble les rides, gomme les taches brunes et tend la peau pour un effet lifting.Creme contre les rides du cou . un prix doux en direct des Usa de 64.90.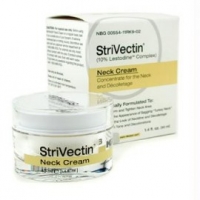 Agrandir l'image
Fournisseur : StriVectin
Description
La peau de votre cou et décolleté s'est détendue au fil du temps ? Vous avez la peau marquée par les rides et certaines taches brunâtres ? StriVectin Neck Cream est la formule spécialement conçue pour ses zones sensibles où la peau à tendance à se relâcher très rapidement. StriVectin Neck Cream est la nouvelle crème lifting du "cou de dinde". Elle bombe et tend votre peau tout en atténuant les rides et les dégâts des U.V.
Une peau repulpée et tendue : Effet lifting
Des rides comblées
Des taches effacées
Réduit l'apparence du relâchement du « cou de dinde »
Hydrate la peau en profondeur
Le cou et le décolleté chez la femme sont des zones particulièrement sensibles. Si ces zones se rident et se détendent plus rapidement que les autres c'est parce que notre mode de vie ne les ménage pas. Un exemple simple, une femme qui dort sur le coté découvrira des rides verticales sur sa poitrine lorsqu'elle se réveille. Celles-ci sont dues à la pression des seins l'un contre l'autre durant les heures de sommeil. Ces rides se creusent au fil du temps et finissent par s'installer définitivement. Dans 30ml de crème, vous bénéficierez de tous les effets d'un lifting … voire plus ! Car StriVectin Neck Cream retend la peau de votre cou et de votre décolleté pour diminuer considérablement l'effet "cou de dinde". Mais ce n'est pas tout. StriVectin Neck Cream comble aussi les rides et fait disparaître toutes les taches causées pas l'exposition au soleil.
Composition
Water (Aqua), Caprylic/Capric Triglyceride, Glycerin, Silica, Yeast Extract (Flax), Hydrolyzed Soy Protein, Cetearyl Alcohol, Tridecyl Trimellitate, Glucereth-26, Dimithicone/Divinyldimethicone/Silsesquioxane Crosspolymer, Cetyl Alcohol, Glyceryl Stearate, PEG-100 Sterate, Cetearyl Glucoside, Polypeptide-1, Secale Cereal (Rye) Seed Extract, Prunus Amygdalus Dulcis (Sweet Almond) Seed Extract, Phenylethl Resorcinol, Dimethicone, Albumen, Titanium Dioxide, Acrylates/C10-30 Alkyl Acrylate Crosspolymer, Disodium EDTA, PEG-8, Disodium Distyrylbiphenyl Disulfonate, Phosphate Buffered Saline, Polysorbate 20, Phenoxyethanol, Aluminum Benzoate, Aluminum Chloride, Mica, Ethylparaben, Butylparaben, Methylparaben, Triethanolamine, Propylparaben, Isobutylparaben
Mode d'Emploi
Sur une peau propre et sèche, appliquez sur le cou et le décolleté avec des mouvements doux et longs vers le haut jusqu'à ce que la crème soit totalement absorbée. Utilisez peu de produit car SriVectin Neck Cream est très concentrée. La crème est vite absorbée et laisse votre peau visiblement plus jeune, douce et soyeuse. Utilisez 2 fois par jour, matin et soir (Ne pas dépasser les 3 applications par 24h).
---
Plus de catégories
Erreur: Failed to retrieve the Currency Converter XML document.