| | |
| --- | --- |
| | Votre panier est actuellement vide. |
ROGAINE HOMMES CURE DE 3 MOIS
Acheter La mousse Minoxidil Homme de Rogaine , premier traitement pharmaceutique à fournir des preuves cliniques de son action thérapeutique sur la chute des cheveux.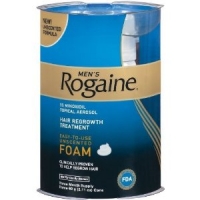 Agrandir l'image
Fournisseur : Rogaine
Description
Plus de 6 millions d'adultes ont eu recours au Minoxidil a travers le monde. Suite à un sondage effectué auprès de 8 000 d'entre eux, plus de 80% ont déclaré l'efficacité du Minoxil pour homme de Rogaine concernant la repousse des cheveux.
Bloque la chute des cheveux

Combat la calvitie, l'alopécie

Stimule la croissance

Favorise la repousse
La mousse de Rogaine pour homme contient un composant actif, le Minoxidil :
qui stimule la circulation sanguine vers les cellules du cuir chevelu responsables de la croissance des cheveux, et accroît le nombre de ces cellules

qui régénère les follicules pileux, ils évoluent ainsi du stade de repos à un stade de développement
Minoxidil Homme à 5% : Le seul traitement reconnu par les scientifiques
POSOLOGIE DU MINOXIDIL HOMME A 5% ROGAINE MOUSSE (3 MOIS)
Appliquer une dose matin et soir, c'est a dire 1 ml de Minoxidil directement sur la zone concernée du cuir chevelu. Le soir appliquer le produit au moins deux heures avant le coucher pour permettre à la solution de sécher afin d assurer une efficacité maximale.
En respectant les doses, un flacon suffit pour un mois de traitement. Lors de l'utilisation du pulvérisateur, vérifiez bien que le Minoxidil couvre le cuir chevelu et non pas seulement les cheveux.
CONTRE INDICATION DU MINOXIDIL HOMME A 5% ROGAINE MOUSSE
Ne pas utiliser si vous êtes une femme.
Moins de 18 ans.
L'efficacité des produits présentés ainsi que les résultats obtenus varient d'une personne à l'autre selon l'âge, le sexe, la condition physique, les traitements antérieurs.
L'apparition des premiers résultats peut donc être plus ou moins rapide et importante selon les utilisateurs.
Les produits ne peuvent en aucun se substituer aux conseils d'un médecin ou d'un spécialiste. 
Respecter la dose journalière indiquée et les conditions d'utilisation.
Veillez à ne pas prolonger l'utilisation au-delà de la période recommandée.
---
Erreur: Failed to retrieve the Currency Converter XML document.