| | |
| --- | --- |
| | Votre panier est actuellement vide. |
Anabolic Xtreme Carnobolic, 84-cap Bottle
Pour des performances athlétiques de pointe, vous avez besoin d'endurance musculaire supérieure. Carnobolic; le produit carnosine premier et le seul à fournir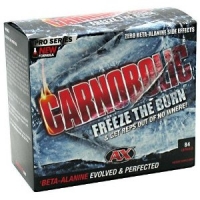 Agrandir l'image
Fournisseur : Anabolic Xtrem
Description
Power Pack Carnobolic d'Anabolic Xtreme.

Les atouts plus de Power pack Carnobolic d'Anabolic Xtreme:

Energie et récuperation.
Endurance.
Protèction de Muscle
Puissance.


Pour des performances athlétiques de pointe, vous avez besoin d'endurance musculaire supérieure.
Carnobolic; le produit carnosine premier et le seul à fournir "First Workout" résultats.

Carnobolic enveloppe une protection blindée Bio-enrobage autour carnosine se donner vos muscles exactement ce dont ils ont besoin - la saturation des niveaux de pointe de carnosine intramusculaire.
Carnobolic élève également source de vos muscles les plus puissants de l'énergie biologique, l'ATP, puis suralimente neuro-musculaire de puissance de pointe pour le serrage des contractions musculaires.

Le PowerCell TST est exclusivement conçu pour les athlètes cherchant un avantage Hardcore arcanes et souterraines concurrentiel qui est strictement voilée aux athlètes en général.

La dernière innovation d'Anabolic Xtreme, le PowerCell TCT dispose d'un jamais-avant-vu et tout-naturel ingrédient cléisomère alpha avec des implications profondes de la testostérone naturelle bio-valorisation.

Conseil d'utilisation:

Prenez 2 capsules le matin et 2 capsules le soir, de préférence sur un estomac vide.
Pendant 2 mois et arretez 1 mois et vous pouvez reprendre.

Valeur nutritive:

Carnabolic Mélange breveté: L-Carnosine (b-alanyl-L-histidine) protégés par Bio-Blindée temps libéré et de la technologie d'absorption, Disodium ATP (adénosine-5'-triphosphate, sel disodique), carbonate de sodium (anhydre), théobromine

TST Ingrédients: D-acide aspartique, l'extrait de graines de Trigonella foenum-graecum (normalisé aux saponines Fenuside 50%), Coleus forskohlii extrait (standardisé à 20% forskoline), 7-Methoxyflavone.
en stock
llulose microcristalline, amidonde maïs abrogateur, stéarate de magnésium, silice.
---
Erreur: Failed to retrieve the Currency Converter XML document.