| | |
| --- | --- |
| | Votre panier est actuellement vide. |
VASO FLOW 380 CAPS
Vaso Flow Une nouvelle frontière dans la vasodilatation Oubliés, les jours avec les muscles plats. Oubliés, les jours d'entraînement médiocres...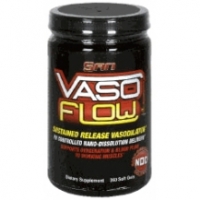 Agrandir l'image
Fournisseur : San nutrition
Description
Une nouvelle frontière dans la vasodilatation
Oubliés, les jours avec les muscles plats. Oubliés, les jours d'entraînement médiocres. Oubliés, les jours sans congestion convenable. Peut-être vous avez de temps en temps de bonnes congestions, parfois des congestions convenables, et aucune congestion la plupart du temps. Et si nous vous disons qu'un nouveau supplément révolutionnaire maintiendra votre congestion longtemps après que votre séance d'entraînement soit finie. En fait, vous sentirez toujours vos muscles être prêts pour plus de travail, même des heures heures après votre entraînement! Ainsi vous développez non seulement la masse musculaire pendant l'entraînement, vous récupérez également presque immédiatement. Imaginez si vous pourriez aligner quelques semaines d'entraînements comme ça. Vous seriez énorme, écorché et plus fort que jamais en un rien de temps.
Cette nouvelle découverte incroyable a juste été révélée! Nous sommes extrêmement fiers de vous présenter la nouvelle génération de vasodilatateurs, et le résultat final est Vaso Flow, un nouveau supplément spectaculaire qui atteint rapidement les avant-postes de l'industrie du Bodybuilding et du Fitness. Vaso Flow contient de puissants composés essentiels à la création de congestions incroyables.
Les composants clés de Vaso Flow permettent un flux sanguin accru, qui favorise non seulement de méchantes congestions, mais fournit également les éléments bâtisseurs nécessaires pour une livraison des nutriments, stockage de glycogène et sécrétion d'hormone de croissance accrus, qui mènent à des kilos supplémentaires de masse musculaire ajoutée à votre charpente en un temps record. Cela signifie que vous sentirez non seulement la congestion en vous entraînant, vous éprouverez également de façon constante, des effets anaboliques et anticataboliques. La véritable raison pour laquelle Vaso Flow est si efficace est parce qu'il reproduit les conditions idéales pour de fantastiques séances d'entraînement chaque fois que vous vous entraînez.
Points forts :
• Vaso Flow procure des congestions instantanées et intenses.*
• Vaso Flow soutient des apports d'énergie illimitée donc vous pourrez vous entraîner plus durement, plus lourdement et plus intensément.*
• Vaso Flow réduit le temps de récupération après des séances d'entraînement exténuantes, ainsi vous récupérerez entièrement et vous vous développerez durant toutes vos futures séances d'entraînement.*
• Vaso Flow augmente la production de NO et améliore l'arrivée d'oxygène pour retarder le début de fatigue.*
• Vaso Flow est prouvé scientifiquement pour élever radicalement les niveaux sanguins de polyamines, l'hormone de croissance et l'insuline.*
• Vaso Flow augmente les acides aminés qui favoriseront plus tard une plus grande conservation de muscle et une meilleure récupération à l'entraînement.*
Vasodilatateur à action prolongée*

Soutient l'oxygénation et le flux sanguin aux muscles sollicités*

Vous permet de vous entraîner plus durement, plus lourdement et plus intensément*

Libération à nano-dissolution au PH contrôlé*
Conseils d'utilisation : Prenez 6 gélules jusqu'à deux fois par jour, une portion le matin au réveil et une autre portion 30 minutes avant votre séance d'entraînement. Vaso Flow peut être pris avec d'autres produits SAN tels que Fierce, Vault et ou V12 Turbo pour des effets synergiques accrus de NO (Oxyde Nitrique) et du partitionnement des nutriments. Stockez dans un endroit frais et sec.
Avertissement : N'utilisez pas ce produit si vous êtes enceinte ou envisagez de le devenir. Consultez votre médecin avant utilisation si vous êtes traités pour l'hypertension ou un dysfonctionnement érectile. Utilisez ce produit avec précaution si vous avez des antécédents de bouton de fièvre (herpès). L'utilisation de ce produit n'est pas recommandée chez les individus allergiques aux produits à base de maïs ou aux agrumes. Les produits contenant de l'ephédra et de la caféine peuvent réduire l'efficacité de Vaso Flow si pris simultanément. Non destiné aux individus âgés de moins de 18 ans.
Informations nutritionnelles

Une Portion

6 gélules

Portions Par Boîte

60

Quantité

Par Portion

% Besoin Quotidien*

Formule Vaso Flow au PH contrôlé

Mélange propriétaire de

3000 mg

†

(Di-L-Arginine Orotate, L-Arginine Ethyl Ester DiHCl)

Sytème de libération à nano-dissolution liquide prolongée

Mélange propriétaire de

1450 mg

†

(L-Histidine HCl Monohydrate, 98% pure Proanthocyanidines (tirés de graine de raisin), Cnidium Monnieri (40% Osthol), L-Ornithine- Alpha Kétoglutarate (1:1), L- Norvaline (98%)

† Besoin quotidien non défini.
Autres ingrédients : Huile de soja, gélatine, glycérine, eau purifiée, lécithine, cire d'abeille jaune, bioxyde de titane, colorants FD&C Rouge # 40, FD&C Jaune # 6, FD&C Bleu # 1.
AUCUN levure, blé, sucre, sel, produit laitier, agrume, poisson ou conservateurs ajoutés.
Information d'allergène : Contient du soja.
*Ces déclarations n'ont pas été évaluées par la Food & Drug Administration (FDA). Ce produit ne prévoit pas de diagnostiquer, soigner, traiter ou d'empêcher quelconque maladie.
NE PAS LAISSER À LA PORTÉE DES ENFANTS. NE DOIT PAS ÊTRE UTILISÉ AU COURS DE LA GROSSESSE OU DE L'ALLAITEMENT.
Ne pas donner aux enfants de moins de 18ans, aux femmes enceintes ou allaitant, aux personnes sous traitement médical.
Mettre hors de la portée des enfants.
Denrées destinées à une alimentation particulière
Aliment pour encas hyperglucidique
Ne constitue pas un substitut d'un régime alimentaire varié.
Respecter les dosages recommandés.
---
Erreur: Failed to retrieve the Currency Converter XML document.